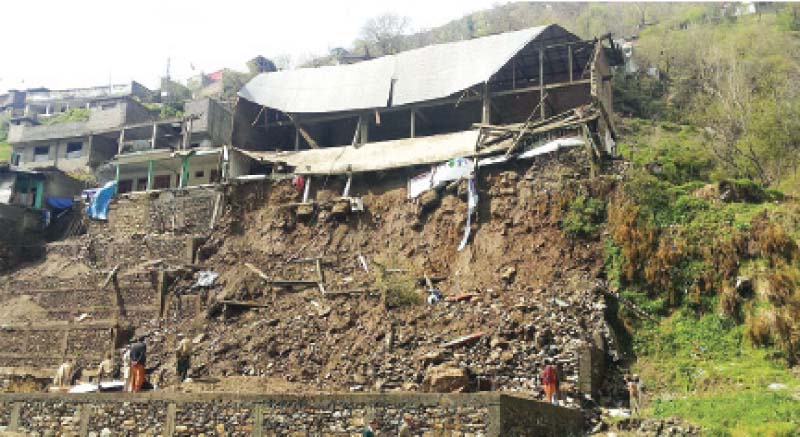 ---
MURREE:
The damaging practice of dumping sand and rocks in forests and on roads in Murree continues unabated.
The constant digging of ground and cutting of mountains to make way for construction is displacing tonnes of sand and rocks, which are being dumped regularly in forests and on roads including Upper and Lower Jhikali Road, Kuldana Road, Lower Topa Road and Kohala Road during the wee hours.
As a result, the drainage lines on the roads in Murree and its vicinities are getting choked to the point of danger and the huge piles of sand and rocks are causing immeasurable damage to the forest vegetation.
The malpractice is allegedly being carrying out with the collusion of the forest department and highway police, who are also accused of taking bribes in cash per truck or dumper.
However, both departments have denied involvement and each is blaming the other for the ongoing situation.
Assistant Commissioner (AC) Murree Muhammad Umar Maqbool said that several people in connection with dumping sand illegally have been arrested, and multiple vehicles have been impounded as well.
However, he admitted that despite the arrests, the practice is yet to cease and continues in the cover of darkness.
The official said that surveillance of roads is the responsibility of the highway department, while the rest of the area comes under the forest department.
The AC further said that the administration is also taking action against illegal constructions and the unceremonious disposal of sand on roads and in forests.
Read Expat accuses Murree authorities of grabbing ancestral land
Maqbool said that despite repeated reminders and admonitions, both the forest department and the highway police have made no visible efforts to play their part.
Locals of Murree have demanded the government to take action against the officials responsible for the unacceptable situation.
Published in The Express Tribune, November 28th, 2021.
COMMENTS
Comments are moderated and generally will be posted if they are on-topic and not abusive.
For more information, please see our Comments FAQ