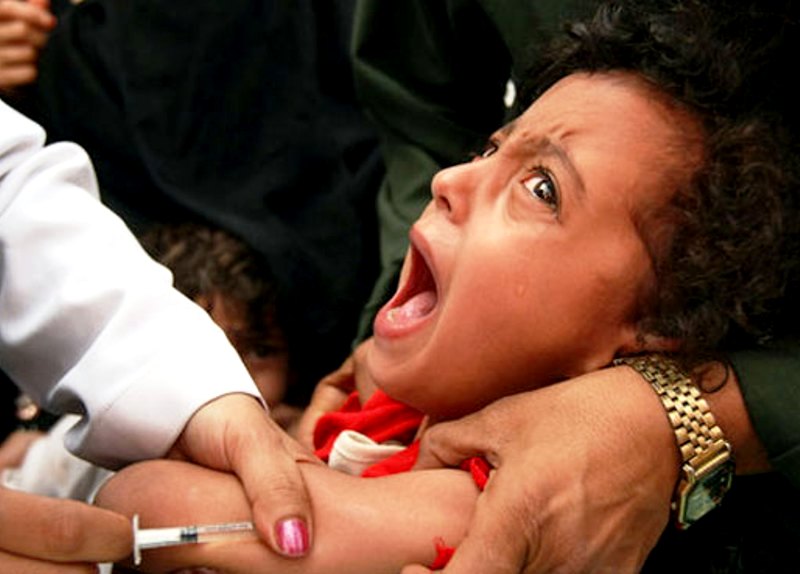 ---
PESHAWAR:
Inoculation drive against measles, rubella in K-P has been met with parents denying consent for jabs at schools. A significant number of the country's population view vaccines in a negative light, be it against the superspreader virus, polio, or as of late measles and rubella.
With 2,000 cases being reported across 14 districts of Khyber-Pakhtunkhwa (K-P), a campaign is underway in which roughly 15 million children in the province will get inoculated against measles and rubella - a disease that has claimed the lives of 100 children so far in 2021.
However, the provincial health department's decision to carry the inoculation drive at schools is being met with hesitancy and fear due to a previous drive in 2018 resulting in student deaths at the hands of untrained vaccination staff.
A similar campaign in 2014 also resulted in 4 children losing their lives. Schools in the province have sent out consent forms, asking parents for their permission to jab their kids but many parents have denied consent.
Naimat Khan, a resident of the provincial capital, is one such parent. "I have marked the 'no' slot on the form because I remember what happened during previous similar nationwide campaigns in the province where children died due to the vaccine," he claimed.
Read Four booked for dodging vaccine
Naimat, a school teacher, while talking to The Express Tribune, informed that even though it was a huge campaign the health department lacked trained staff. "I can just take my four kids to the hospital to get them vaccinated. I understand this is important but not at the cost of my children's lives," he added.
It is not just the parents who are reluctant, private schools' administrations are as well because they do not want to be blamed for any mishap. "The reason why we are sending out consent forms instead of directly allowing the health department to jab our students is that we do not want to be held responsible if something goes south," a faculty member at a school in Peshawar informed.
A senior health official involved in the campaign on the condition of anonymity acknowledged the fear of parents. "We thought schools were the perfect places for achieving our target but the parents' belief that the vaccine could be fatal and thus withdrawing consent means we might miss our target," he revealed.
However, a growing problem, the official informed, is that after parents have denied consent of inoculation at school when the health department teams visit homes, parents say their kids got vaccinated at school.
"So we are being dodged both ways," he added. Officials at the Expanded Program on Immunization (EPI), commenting on the casualties from the previous campaign, termed them as a programmatic error. "There is no side effect of the vaccine but since untrained staff vaccinated kids, we call it a programmatic error. This time however we have trained staff available," Dr Muhammad Arif, Director EPI K-P said.
According to Arif, some 13,664 trained teams have been deployed in the province and over 10 million kids have been vaccinated so far. "I know there is a fear factor but no deaths have been reported during the vaccination process and the campaign has been successful so far," he informed The Express Tribune.
COMMENTS
Comments are moderated and generally will be posted if they are on-topic and not abusive.
For more information, please see our Comments FAQ