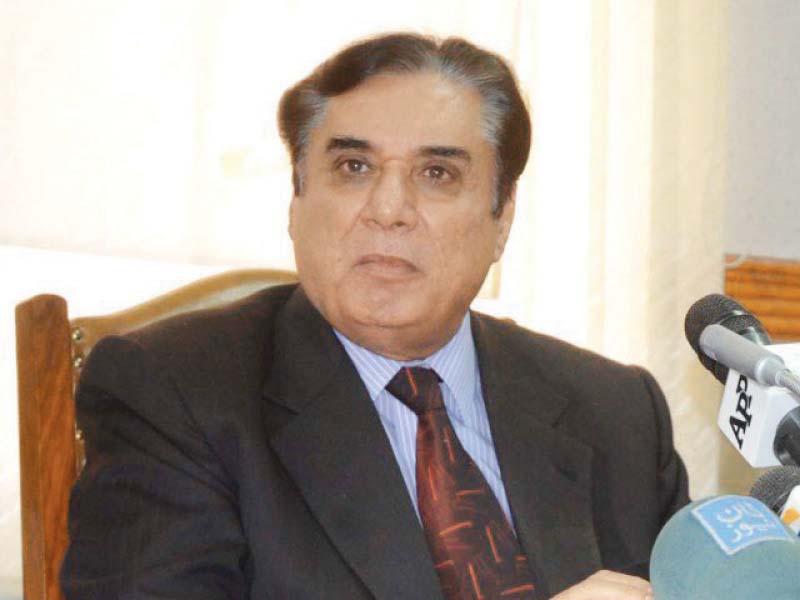 ---
LAHORE:
National Accountability Bureau (NAB) Chairman Justice (retd) Javed Iqbal on Thursday maintained that some people were keeping themselves alive in politics on the basis of the anti-graft body.
"Their morning starts with NAB, and their day ends with NAB," the chief of the anti-graft body said while addressing an event in Lahore.
"While criticism is welcome, it should be legitimate."
The NAB chief further said a few weeks ago there were questions raised over the whereabouts of the anti-graft body's financial recoveries.
"There's a storm in a teacup over where billions of rupees in recovery have gone. Recovery is not in the form of currency that we can invite you to count the bills," the NAB chief said, adding that the body calculated recoveries in different forms including land and wheat.
He explained that not all recovered amount was in cash that could be deposited in the national treasury.
"I have worked with utmost honesty in my four-year long tenure," Justice (retd) Iqbal claimed. "It is the job of accountability courts to decide on references. The blame game must stop."
The finance ministry on November 4 disclosed that NAB had recovered and deposited only Rs6.5 billion in the kitty since its inception, giving a serious blow to the anti-corruption watchdog's claim of recovering over Rs821 billion.
Read More: SC raises questions on NAB's performance
However, in a statement, the anti-graft watchdog released the details of direct or indirect recoveries made till September 2021 in response to some media reports about its recoveries. It stated that the bureau recovered Rs821.573 billion since its inception.
Justice (retd) Iqbal said that blaming NAB would not end the cases. "Controversies have surrounded the bureau because it questioned powerful people for laundering money worth billions of rupees."
The NAB chief dismissed allegations of taking the government's side.
"The government is not a sacred cow for NAB," he said.
"NAB will take action within 48 hours if an application against the government is submitted. Calling NAB a supporter of the government is cruel criticism."
He added that people who made such allegations should first disclose as to how many applications they had given NAB against the government.
Justice (retd) Iqbal claimed that if he found NAB officers taking bribes, he would take action against them within 48 hours.
"Bring evidence today and I will take action within two days," he added. "If it were up to me to decide the [NAB] cases, it would not take years."
The anti-graft body chief said a complete audit of NAB had been carried out three times and no problems had ever emerged except for two or four minor lapses.
He claimed that the value of land recovered by NAB in Gwadar was in trillions and the bureau had a complete account of direct and indirect recovery.
The NAB chairman said the war started by the anti-graft body was bound to continue.
"No one person or institution can eradicate the scourge of corruption alone and a collective effort is required."
COMMENTS
Comments are moderated and generally will be posted if they are on-topic and not abusive.
For more information, please see our Comments FAQ