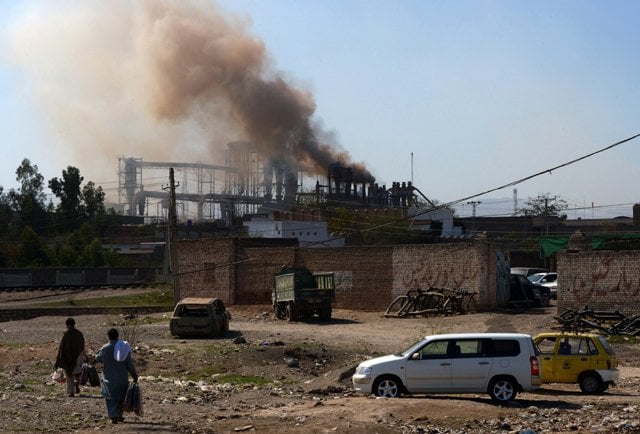 ---
PESHAWAR:
District administration has initiated action against those industrial units that are causing air pollution in Peshawar Division.
It has been decided to solve the problem on a permanent basis with the help of all stakeholders.
A meeting was held Wednesday chaired by Commissioner Peshawar Division and attended by officials of Export Promotion Authority (EPA) and Industry Department and senior citizens to find a sustainable solution to the increasing menace of air pollution in Peshawar and to align government policy with COP26 declaration.
The commissioner reiterated the resolve for a clean and green and healthy environment for the residents of Peshawar. He ordered a technical committee under the supervision of additional deputy commissioner Peshawar which will also be comprised of experts from civil society and industries, district administration Khyber, EPA and Industry Department.
Read Hazardous living : Peshawar's rising pollution problem
It would be tasked to prepare a comprehensive action plan with clear timelines. The technical committee would also work to identify gaps in the existing EPA regulations and help frame a new policy document for K-P Clean Air Act.
Industrialist Ghulam Sarwar Mohmand, former president of SCCI, Professor Shafeeq ur Rehman, Dr Adil Zareef, Dr Maqbool Khan and Dr M Yousaf Sarwar also attended the meeting.
Sarwar urged punitive administrative and legislative measures against the industrial units causing serious pollution.
The civil society members informed that 3,000 citizens in Hayatabad have signed a recently launched petition campaign urging the K-P government to support their fundamental right to clean air.
This petition would also be presented to the Environmental Protection Tribunal for necessary action.
The DC Khyber informed that inspections of different industrial units were well underway.
COMMENTS
Comments are moderated and generally will be posted if they are on-topic and not abusive.
For more information, please see our Comments FAQ