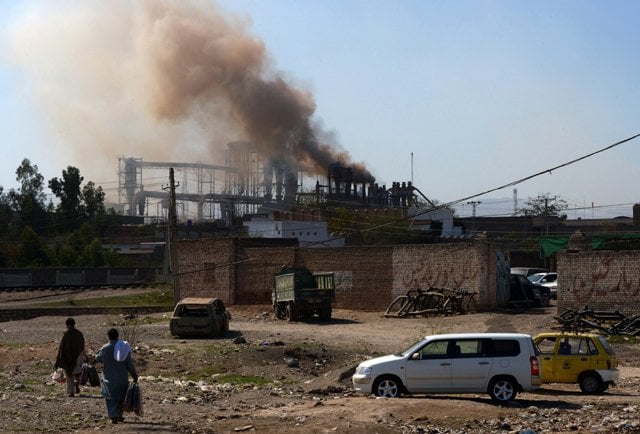 ---
PESHAWAR:
Apart from dengue, the silent killer that exists in the lives of residents of Khyber Pakhtunkhwa's provincial capital is the polluted air that they and the city administration alike pay no heed to.
The Hayatabad Industrial Estate in Peshawar, which is close to many residential areas, has a total of 550 factories, producing various materials like steel and chipboard, actively contributes to the environmental pollution in the city due to which respiratory diseases are on the rise.
Dr Shafiqul Rehman, former head of the Department of Environment at University of Peshawar, informed The Express Tribune that according to the World Health Organization (WHO) air quality should be 25 milligrams (mg) per cubic meter.
However, in Peshawar due to industrial activity, recent air quality index (AQI) readings are between 90 and 110 mg. "If the amount of dust, smoke, and zeolite content in the atmosphere exceeds the WHO limit, it is detrimental to human health," Rehman said.
He further added that Peshawar was a geographically and climatically dry city and due to inadequate rainfall, particles of dirt and dust collect up in large amounts in the air and add to the environmental pollution.
The industrial estate is not the only polluter in the city, smoke emissions from private and passenger vehicles also add to the bad air quality. K-P's capital is littered with old buses, noisy rickshaws, and 22-wheeler trucks, all emitting toxic black smoke, which is a nuisance for Peshawar's residents.
Dr Asif Khan, an ecologist from Cambridge University who resides in the city, while talking to the Express Tribune said that most vehicles in the city would not pass a mandatory annual fitness and emissions test which is standard practice in other nations. "The smoke filters installed in a vehicle's exhaust system are either missing or broken in these old cars and public buses and authorities pay little heed to it. The smoke they blow carries dust particles which pollutes air and causes lung disease," Khan informed.
Toxic water
However, along with the air, the city's water is polluted as well. Kabul River, from which the city sources its water, according to an independent report published in 2019, was said to have as many as 1700 different types of bacteria. The upsurge in tourism in the province has not helped the river either, as a report by the provincial fisheries department revealed that every year millions of fish die from shopping bags and unhealthy chemicals in the river. Another recent report by K-P's Department of Agriculture and Livestock, a copy of which is available with the Express Tribune, revealed that consumption of vegetables produced in fields irrigated from water from industrie can cause various diseases such as cancer and the highest number of such vegetables containing toxic particles were grown in Peshawar.
Published in The Express Tribune, November 22nd, 2021.
COMMENTS
Comments are moderated and generally will be posted if they are on-topic and not abusive.
For more information, please see our Comments FAQ