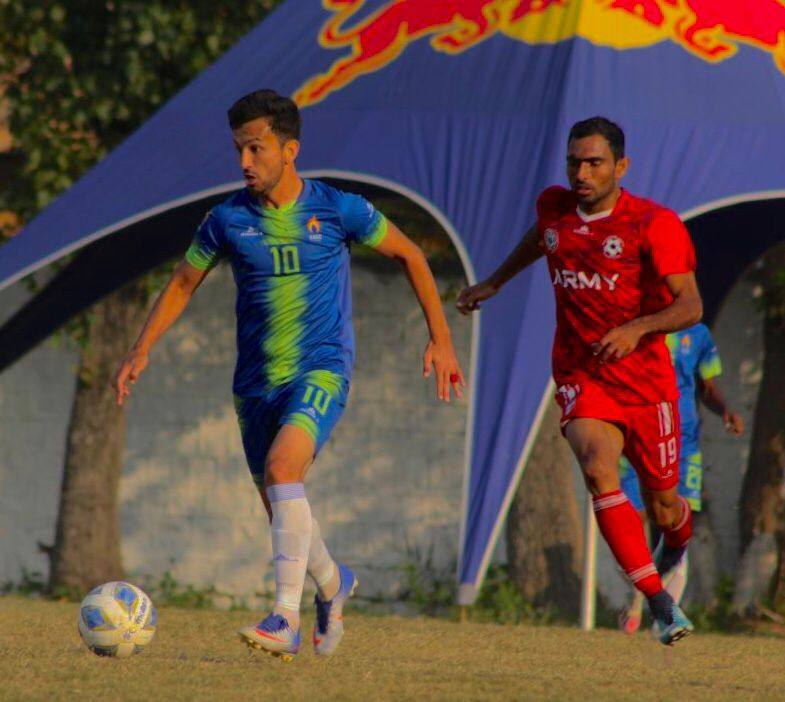 ---
KARACHI:
From being a hafiz (learned by heart) of Quran in Pishin to being one of the key midfielders for Pakistan, footballer Saadullah's journey has been an arduous one, and he is demanding fairness in the way football has been treated in the country.
Saadullah is after all a role model for many, mostly representing millions of children who are and have studied in madrasas and who find sports as a way to build their lives ahead.
Their struggles are rendered fruitless when the Pakistan Football Federation (PFF) is run by and taken over by greedy officials, who do not prioritise the game or the players and people who are associated with the sport for the livelihood.
"What is the way when PFF is banned again? How is it our fault? Why is there silence?" Saadullah asks. He tells The Express Tribune that he wants to see the light at the end of the tunnel, but it is the current situation of the PFF that is making many players lose hope.
"We are banned again the second time now and there seems to be no way out. The fact that the countries in the region, even Afghanistan which has seen so much turbulence, have managed to send their team to the World Cup qualifiers this month is appalling."
"My question is why the officials and the government are wasting our time and youth? Why are footballers being punished for the unprofessionalism on the part of the office bearers," said Saadullah, who recently completed his master's degree in international relations.
Broken dreams
The 27-year-old is a part of the wave for Pakistan football that saw youngsters grown in the country finally grow wings to fly abroad and play in clubs. Saadullah's journey to become the star play-maker in the country is nothing short of a miracle, but his heart is longing for stability.
Saadullah plays for Sui Southern Gas Company (SSGC) along with Pakistan national team captain Saddam Hussain and other star players. However, he has seen better playing days in Hungary and even in Maldives, where he spent time in the Maldives Premier League from 2015 till 2017, and managed to make a mark there.
"I want a better system for the players in Pakistan. Right now as the situation stands, I am heartbroken because now we hear that the departmental teams will shut down too. In a professional football environment there is no need of departments, but in Pakistan we have no alternative yet. We are still far behind as we don't have a professional league setup still. Even though I advocate for professional system in Pakistan, I am very disappointed with what we have seen so far in our career, in my career of 11 years as a footballer.
"I would love the departmental teams to go away, only if we have a professional league, and where players are busy all year round and not just few months. Right now with a ban on the PFF, and even without it, our level of football even at the Pakistan Premier Football League is not improving.
"There is a need to overhaul the system, which can benefit the players. With departments shutting down we'll see the players working as labourers soon," said Saadullah, who returned from the unfinished Pakistan Premier Football League, even though SSGC had been among the top teams in the second leg of the tournament that was taking place in Rawalpindi. The league is postponed indefinitely.
He recalled that he himself used to run away from home and friends at first when he started to play football as a child because his father was against the idea of him playing football full-time.
"I remember when I became Hafiz-e-Quran it was in December 2000, I would run away and play football. My father was against the idea of me playing the sport full-time, but I persevered and didn't give up. Slowly but surely, when he would hear people praising my skill, he allowed me to play. I know there are many children who play football with this passion, and they should not be failed on any account," said Saadullah, as he now looks forward to get a degree in physical education.
"My message is that the players should not give up. They need to believe in their abilities and not be discouraged. Whereas, I want to say that the government and the PFF officials, it is their responsibility to serve the children, the footballers of the country," said Saadullah who earned his License C coaching certificate earlier.
Death sentence for Pakistan football
"If the situation does not change, this will be the death of football and footballers in Pakistan," Saadullah explains, while there is a talk of a franchise league in the backdrop of the PFF fiasco.
"We are not playing international football, we are banned, we have only semi-professional set-up domestically, we need solutions and answers now, and it is already too late."
He pointed out that the development for football never happened in his home town either. "Pishin is still backwards. We still don't have grassy grounds to play football, we only play on rocks, but that is the passion we have, our children have, whether they go to schools, madrasas or play on the streets," said Saadullah. "I just want these children and youth to have self-belief."
Pakistan team played their last international matches albeit friendlies in January 2020, while their last outing was the World Cup qualifiers in 2019, whereas Pakistan reached the semi-final of the South Asian Football Federation (SAFF) Championship in 2018.
In the fight among officials and administrative matters, it is the players who have seen the worst as Pakistan also missed the 2021 Saff Championship last month, whereas women footballers missed out on the Asian Football Confederation event.
COMMENTS
Comments are moderated and generally will be posted if they are on-topic and not abusive.
For more information, please see our Comments FAQ