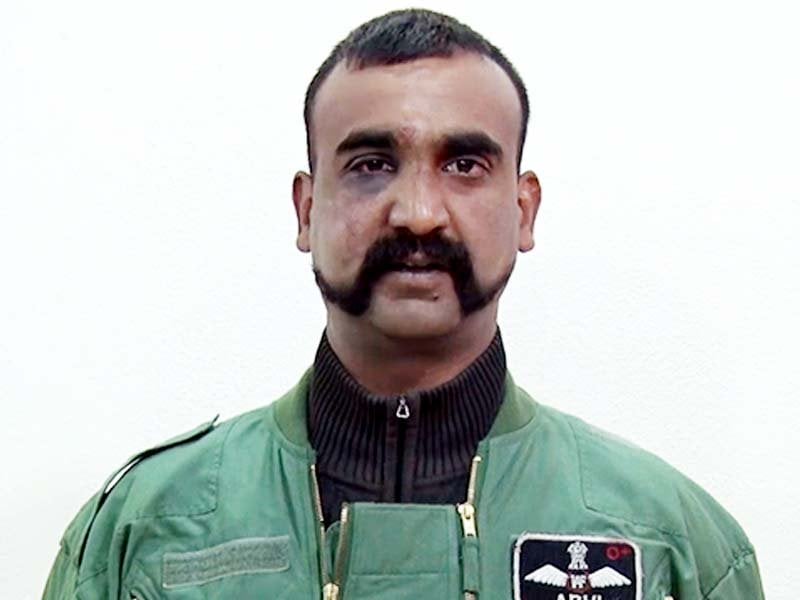 ---
Indian Air Force (IAF) pilot Group Captain Abhinandan Varthaman was accorded the "Vir Chakra" by President Ram Nath Kovind in an investiture ceremony on Monday, Indian media reported. The IAF pilot was awarded the honour for "downing Pakistani F-16 plane in 2019."
On February 27, 2019, The Pakistan Air Force (PAF) fighter jets shot down two Indian warplanes after they intruded into its airspace while responding to a Pakistani aerial mission on targets inside the Indian Illegally Occupied Jammu and Kashmir (IIOJK) and arrested Abhinandan.
Abhinandan, who was being beaten by locals after his plane crashed, was rescued by Pakistan Army personnel. Later, in a video that went viral on social media, he praised the army officials as 'thorough gentlemen'.
"I have [been treated well] and I would like to put that on record… I will not change my statement if I go back to my country," he said in the video that showed him sipping tea.
The captured Indian pilot's iconic quote that "the tea is fantastic in Pakistan" became a meme material for many and still being used by the netizens.
The PAF had also shown wreckage of Abhinandan's Mig-21 which had all its missiles intact. Perhaps the Indian pilot may have fired with his pistol to shoot down F-16, experts wondered.
The claim of downing a Pakistani F-16 made by the Indian authorities had been dismissed after Pakistan invited US officials to physically count the fighter jets after the February 27 air battle, the prestigious Foreign Policy magazine reported in an exclusive report the same year. The story was even covered by the Indian media as well.
"Two senior US defence officials with direct knowledge of the situation told Foreign Policy that US personnel recently counted Islamabad's F-16s and found none missing," the American news publication, quoting US defence officials, said in its report a few weeks after the air battle.
The F-16s are made by Lockheed Martin and, under an end-user agreement, the United States required the host country to allow for regular inspections to ensure they were accounted for and protected, Foreign Policy said.
Indian claims were also debunked by an investigative website, Bellingcat, known for its accurate analysis of war zones. It exposed India's false claims with the help of thorough research and technical explanation.
Finnish expert Veli-Pekkalt, who authored the report, concluded in his research that evidence shared by the Indian government and media proved that a Soviet-era MiG 21 belonging to the IAF was shot down during the dogfight instead of an F-16.
Read more: Twitter in fits over Indian claim of Abhinandan 'downing PAF F-16'
"All signs point to a downing of a Soviet-era MiG 21 belonging to the Indian Air Force, instead of a Pakistani F-16 as claimed by India".
In his comprehensive findings, it was stated that there was no "compelling evidence" that an F-16 was shot down by India.
Pictures shared by both Pakistan and India were examined by the website before reaching the conclusion.
COMMENTS
Comments are moderated and generally will be posted if they are on-topic and not abusive.
For more information, please see our Comments FAQ