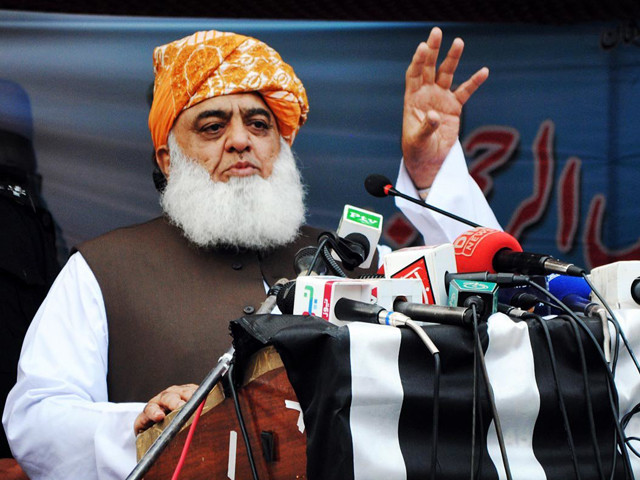 ---
PESHAWAR:
Pakistan Democratic Movement (PDM) head Maulana Fazlur Rehman on Saturday hit out at the ruling party and said the country's economy had collapsed due to "puppet" government's ill-informed policies and "selling out the country" to the international monetary fund (IMF).
Addressing a rally in Peshawar alongside other PDM leaders, Fazl said that the opposition's ongoing march will soon reach the capital, adding that, "we will shut down the roads when we reach Islamabad, not the government".
The Peshawar rally is a part of a series of protests by PDM, which included demonstrations in Karachi and Quetta earlier this month. "We will keep fighting till the government drowns in the sea," the PDM chief said, adding that the current setup had "damaged the country's Islamic identity".
'Threatening calls before joint sitting'
The chief of the opposition's alliance claimed that ahead of the parliament's crucial joint sitting, the opposition parties received threatening phone calls demanding votes for the passage of bills.
Referring to the 2018 general elections, he said the "stolen" votes of the people should be returned to them, alleging that the government has "made arrangements to rig the next elections once more".
'Govt's lies coming to light'
Addressing the rally, PML-N leader and former prime minister Shahid Khaqan Abbasi claimed that recent events that led to the rigging of the 2018 elections were finally coming to light and accused the former chief justice of Pakistan Saqib Nisar of "playing a part in rigging" the polls.
He was referring to the claims of the former chief justice of Gilgit-Baltistan Rana Shamim.
Abbasi alleged that the government was now conspiring to rig the next general elections, just like it had "rigged" the Daska by-elections. "The legislation done in parliament will not resolve the country's problems," he added.
The former premier said when the rulers are "oblivious to the people's suffering, then they are not fit to rule" and should step down from office.
COMMENTS
Comments are moderated and generally will be posted if they are on-topic and not abusive.
For more information, please see our Comments FAQ