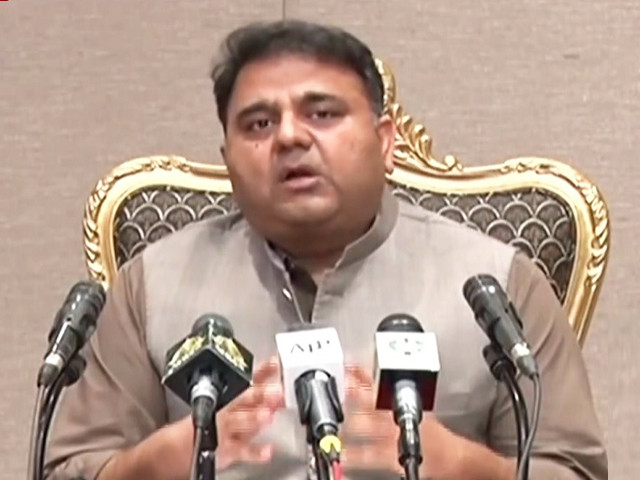 ---
ISLAMABAD:
Minister for Information and Broadcasting Fawad Chaudhry on Thursday observed that the government's job was to ensure the implementation of law but maintained that in the case of Tehreek-e-Labbaik Pakistan (TLP) the "state had to retreat".
On November 7, the federal cabinet revoked its earlier decision of declaring TLP a "proscribed" organisation under the country's anti-terrorism law after the party committed that it would abide by the constitution and the laws of the country.
Four days later, TLP chief Saad Rizvi's name was taken off the Fourth Schedule of the Anti-Terrorism Act, 1997 by the Punjab government.
Stressing the importance of the writ of state, the information minister noted that extremism prevailed when the government's authority expired, adding that vandals take law into their hands when the state fails to assert its authority.
Read: TLP chief Saad Rizvi released from jail
Fawad made these remarks while addressing a gathering at a local hotel in the federal capital.
"The government is ready to fight extremism. The state's job is to ensure rule of law but in the case of TLP it had to retreat."
He added that expressing viewpoint was everyone's right but enforcing it on others was against the norms.
"We face no danger from the US, India and Europe. The biggest danger we face today is from within."
The minister declared that madressahs were not the root cause of extremism but schools and colleges "where teachers were hired to teach extremism which resulted in the destruction of local administration system".
Read More: 'Opposition's suggestions on electoral reforms will be welcomed'
Separately, the information minister asked the opposition parties to come to the speaker's chamber instead of knocking the door of courts on the electoral reforms issue. In a tweet, he stated that suggestions from the opposition would be welcomed.
He advised the opposition to understand the system of electronic voting machines and assured them that all their apprehensions would be addressed.
He said the PTI could not backtrack on the issue of voting rights to the overseas Pakistanis which it had promised in its election manifesto.
The minister opined that politics of Sharif and Zardari families had now become "part of history", saying time had come for the new leadership in the opposition parties to take over.
"The next two years will determine the politics of next two decades of the country's history. The politics of 1990s would be buried in the next two years," he remarked.
COMMENTS
Comments are moderated and generally will be posted if they are on-topic and not abusive.
For more information, please see our Comments FAQ