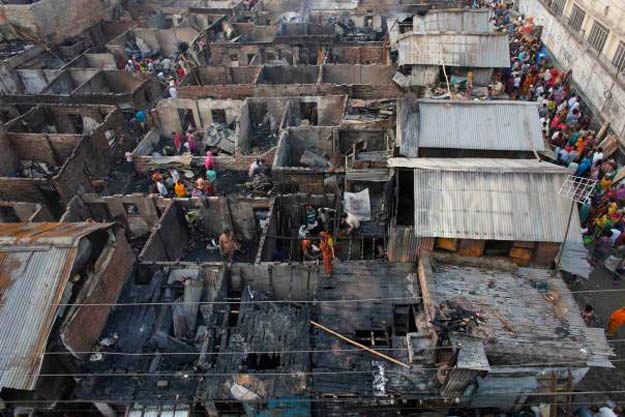 ---
ISLAMABAD:
The living conditions in slums and scattered settlements are extremely challenging as around 38% of their residents did not have daily access to water and 46% of them lacked a routine system for cleaning of drains and garbage collection.
These facts were revealed in a report of the first pilot for a learning and accountability survey in the urban slums in the districts of Karachi West, Korangi, Malir and Lahore -- conducted by Idara-e-Taleem-o-Aagahi.
It was supported by the Foreign Commonwealth and Development Office.
The report added that 18% of these slums received water once in 15 days or more.
While majority of the households -- 79% -- had their own toilets, 21% either had shared (13%) or public (5%) toilets and for 3%, there was no option but open defecation.
Around 63% of households have smartphones, almost 80% of them have cellphones and 21% have computer or laptops. Overall, 33% of the households use internet.
The survey includes a total of 114 slums, reaching out to 2, 275 households, 2,285 mothers and 6,411 children (aged 3 between 16 years).
The learning tools are mapped mainly to lower primary or grade 2 level national and provincial competencies.
Read CDA barred from demolishing slums
The findings from this pilot study were shared virtually in the presence of Ministry of Federal Education and Professional Training Joint Secretary Waseem Ajmal, Punjab School Education Department Special Secretary Dr Suhail Shahzad, UNDP Pakistan Resident Representative Knut Ostby and Sindh Planning and Development Department Senior Chief Education Muhammad Saleem Jalbani among others.
The survey showed that of the sampled children (6,411), 54% were boys and 46% girls (aged between 6-16 years). A total of 82% of them were enrolled in schools in 2021 against 97% in urban districts.
Early years enrolment in slums was 38.1% (girls 42% and boys 58%), significantly lagging behind 53% enrolled in urban districts, with gender gaps setting in early. More children were enrolled in private schools (59%) including madrassahs (8%) and non-formal education (NFE) (1%).
Around 41% of them were enrolled in government schools.
The findings show that almost 50% of the mothers and 44% of the fathers living in the slums were illiterate. Of those literate, 10% mothers and 8% fathers had completed primary education, 41% mothers and 42% fathers had education up to matriculation and 9% mothers and 14% fathers had education above matriculation.
Joint Secretary Waseem Ajmal appreciated the report, adding that it would help in policy actions to improve learning outcomes in slums.
Read more Rethinking water governance in Pakistan
"One of the key challenges of modern education system is how to make it more inclusive and equity oriented. Some segments can afford better education but others remain disadvantaged who have to study in non-functional schools," he added.
Special Secretary Dr Suhail Shahzad agreed with the findings of the report, stating that the existing urban schools were functioning on rural frameworks.
He said that the mapping of slums in development framework was not representative, especially considering the population density.
"We need to devise a structure for the slums so we can establish schools according to the proportion of population there," he added.
COMMENTS (1)
Comments are moderated and generally will be posted if they are on-topic and not abusive.
For more information, please see our Comments FAQ