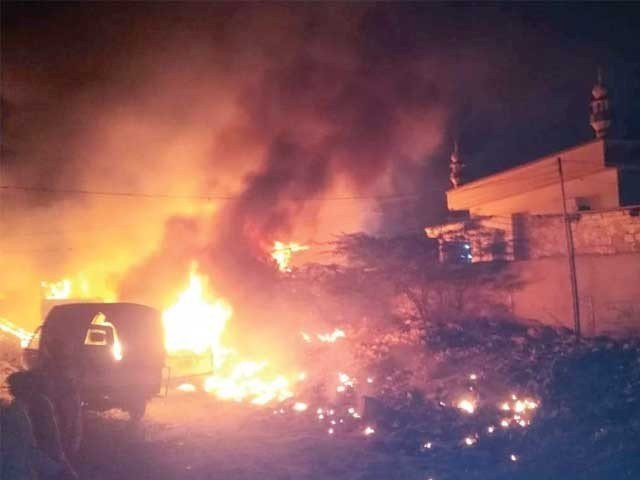 ---
KARACHI:
Six people were severely burned after a fire broke out on Wednesday in the underground line of the National Oil Refinery (NOR) near the Korangi Industrial area in Mehran Town, Karachi.
The explosion occurred when work was being done on the refinery's underground line, which led to the blaze where six people – including four labourers and a security officer – were burned.
The incident occurred near Mehran Town's sector 15.
Ambulances from the Chhipa Foundation rushed to the location after the fire was reported and shifted the injured to the hospital, with the help of the area's residents.
The area's police, fire brigade and Ranger's personnel also reached the location soon after the incident was reported.
According to a spokesperson of the fire brigade, the fire was brought under control by two fire tenders from the Karachi Metropolitan Corporation and one from the NOR.
Following the explosion, a Suzuki high-roof and a digging tractor were burnt, along with the paraphernalia from four makeshift houses nearby.
Read Ten receive serious burn injuries in blaze
Eyewitnesses stated that after the excavation began at 3 am with a digging tractor, there was a spark that soon caused a loud explosion and then a fire. Four line workers, a security guard, and a resident fell far away from the explosion with their bodies ablaze.
Chhipa personnel – with the help of residents – helped extinguish the fires from their bodies and rushed them to a hospital.
The injured were identified as 30-year-old Azizullah son of Amanullah, 38-year-old Shafiullah son of Alam Khan, 45-year-old Magar Khan son of Umar Gul, and 30-year-old Tufail son of Ramazan.
Earlier this week, a devastating fire engulfed a major market in Karachi's Saddar area late on Sunday night when the market was closed. Traders claim that 90% of the shops and warehouses have been completely destroyed leaving them financially shattered.
Describing their condition as calamitous, they say the fire was so ferocious that it continued till Monday morning. Most shops and godowns in the market dealt in readymade garments and clothes.
The KMC fire brigade, assisted by firefighters and vehicles from the navy, personnel from the civil administration and other rescue services put out the fire after several hours.
COMMENTS
Comments are moderated and generally will be posted if they are on-topic and not abusive.
For more information, please see our Comments FAQ