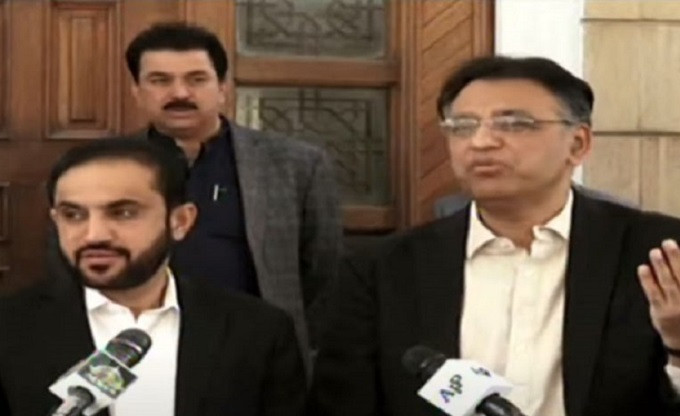 ---
QUETTA:
The federal government on Friday reiterated its commitment to giving Balochistan its "fair share", announcing certain incentives for the province including the issuance of health cards.
"Prime Minister Imran Khan's vision is to bring Balochistan on a par with other provinces," Federal Planning and Development Minister Asad Umar said at a news conference in Quetta. He was accompanied by Balochistan's newly elected Chief Minister Mir Abdul Quddus Bizenjo as well as Chief Secretary Motahar Niaz Rana.
"The Issuance of health cards in Balochistan will be started soon. A subsidy of Rs120 billion has been given on flour, pulses and edible oil which will benefit 53% of the country's households including those of Balochistan," he added.
"Work on border markets should be intensified. They must be regulated. We are also focusing on employment."
The minister said prices had gone up in the global market and the government did not have control over that. "However, efforts are being made to keep taxes on petrol to a minimum."
He said that PM Imran's vision was to give priority to the most backward areas of the country.
Read Ehsaas Centres to widen Balochistan coverage
Umar claimed that Balochistan had been kept deprived of its rights in the past. "The chief minister is continuing development work in collaboration with the federation." He said the premier had asked CM Bizenjo to discuss the health cards for deserving people.
"The chief minister has a positive view. He thinks of improving the lives of the people of the province. Together, they will put Balochistan on the path of development."
The minister said the southern Balochistan package included major roads that would connect the province with Sindh and Punjab as well as neighbouring countries.
The package includes water projects, including the construction of dams.
"The projects include providing electricity from the national grid to the people of Gwadar. It is difficult to supply gas to two separate areas by laying a gas pipeline. However, an LPG system will be installed."
Umar said to connect the youth of Balochistan with the global economy, palm processing plants should be set up in Panjgur.
He added that some districts of the province were being given priority.
"We are trying to minimise the burden [of inflation] on the people. The government has reduced taxes. Last month, taxes were reduced by Rs450 billion," he claimed.
He said the International Monetary Fund (IMF) had demanded that the taxes that had been reduced be raised again.
He said the prime minister compared the country with Bangladesh and India for the number of people living below the poverty line.
"The whole world including Pakistan is compelled to pay the oil price according to the world market. It has currently increased by 83% in the world market while in Pakistan, there's a hike of only 13%.
COMMENTS
Comments are moderated and generally will be posted if they are on-topic and not abusive.
For more information, please see our Comments FAQ