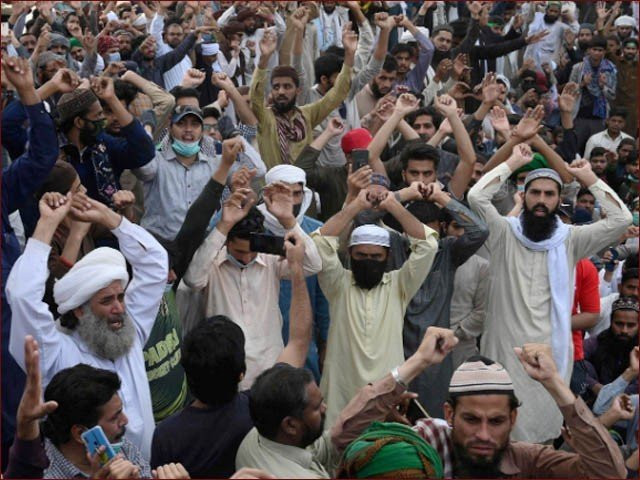 ---
RAWALPINDI/ ISLAMABAD/LAHORE:
In a major development in the wake of the government's agreement with the Tehreek-e-Labbaik Pakistan (TLP) to end clashes that left seven policemen dead, hundreds of activists of the outfit arrested across Punjab are being released.
The steering committee formed to implement the clauses of the agreement met for the second time and key decisions were made including the release of TLP activists, who were not directly involved in violence.
The Punjab government had arrested a total of 2,060 TLP activists from across the province.
Since Monday, 1,060 of them have been released in two phases -- 200 people on Monday and 860 people on Tuesday morning. It added that it had approved the release of the remaining 1,000 TLP activists and issued orders to the deputy commissioners concerned for this purpose.
The released activists were detained for the sake of maintaining law and order. Those with cases against them have not been set free.
It has also been decided to withdraw the appeal filed by the Punjab government in the Supreme Court against the release of TLP chief Saad Rizvi.
The district administration of Islamabad has also issued orders to release the TLP activists arrested under the Maintenance of Public Order (MPO) Ordinance. They will be released after a formal notification is issued for this purpose.
In recent days, around 200 TLP activists were taken into custody and shifted to Adiala Jail in Rawalpindi. On Tuesday, the government released all leaders and activist of the organisation as part of the deal implementation phase.
Read Three cops martyred as TLP men run riot in Lahore
Separately, GT Road between Lahore and Islamabad has been opened for 80% vehicular traffic. So far, alternative routes are being provided to the traffic due to obstructions at two places. GT Road is likely to be fully opened on Wednesday (today).
According to the National Highways and Motorways Police, GT Road from Gujar Khan to Wazirabad was closed at 12 places to stop the protesters marching from Lahore to Islamabad.
The district administration had placed a large number of heavy containers on GT Road to stop the protesters. It had also dug trenches and installed other barriers on several highways – completely suspending traffic between Islamabad and Lahore on GT Road for 10 days.
After successful negotiations between the government and the TLP protesters, the obstructions on GT Road have been removed from 10 places, after which commuters could travel from Islamabad to Sarai Alamgir.
However, there are still barriers at Chenab Toll Plaza and Hajiwala, Gujarat.
On Sunday, the government had announced that an agreement had been reached with the TLP after the latest round of dialogue between the two parties.
COMMENTS
Comments are moderated and generally will be posted if they are on-topic and not abusive.
For more information, please see our Comments FAQ