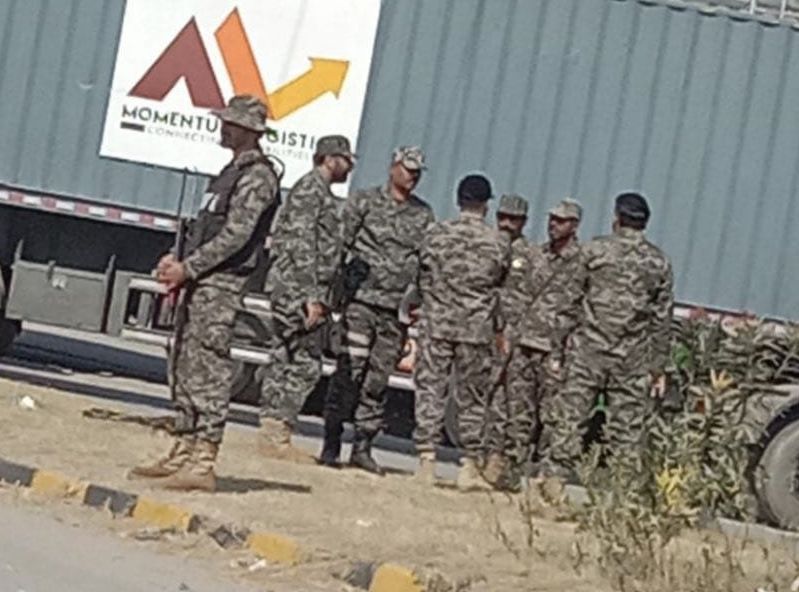 ---
LAHORE:
A warning banner denoting a "red line" was placed by the authorities a few hundred meters away from the Chenab River near Wazirabad that asked the Tehreek-e-Labaik Pakistan (TLP) supporters not to cross as they resumed their march on Friday.
A contingent of over 500 Rangers personnel had been moved near Wazirabad Toll Plaza as the TLP protesters resumed their march from Gujranwala. The Rangers were deployed by the federal government on Wednesday after violent clashes between the marchers and police in Lahore and Sadhoki.
"Beyond this line, the responsibility for law and order lies with Pakistan Rangers (Punjab), who have been given the authority to open fire at the miscreants. All the people are strictly warned to return to their homes", the banner read.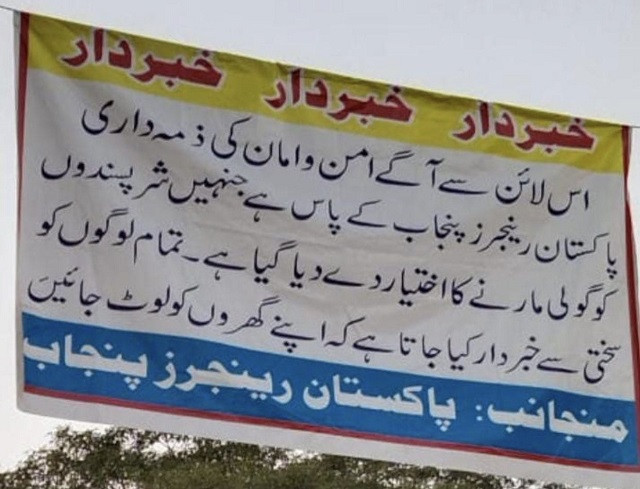 The authorities were putting all the energies to carve out "a thorough choke point" to stop the march at the Chenab River Bridge near Wazirabad, where trenches had been dug on both sides of the river, the safety wall demolished and containers filled with sand placed on the bridge in addition to erecting barbed wire on both ends.
The authorities have started constructing another "choke point" at the Jehlum River. Pickets at the river bridge were being established with bricks and cement. One side of the bridge has been sealed with containers and barbed wire.
On the other hand, the top brass of the Punjab police had started employing recruits at the training colleges to assist the regular police force in halting the march. The inspector general of police (IGP) Punjab has called up around 1,000 men from a training college.
The services of the reserve force had been left at the disposal of Regional Police Officer (RPO) of Gujranwala. The Senior Superintendent of Police (SSP) of the Motorway and Transport had been tasked with arranging transport for the reserve force.
Read Four policemen martyred as TLP resumes march on Islamabad
In Lahore, meanwhile, Punjab Chief Minister Usman Buzdar visited the Mayo Hospital to inquire after the health of the injured policemen. Also, the Lahore police arrested 250 suspected supporters of the TLP for forcing the shopkeepers to shut their businesses.
DIG Sohail Chaudhry maintained that the arrested suspects had forcefully shut down markets and bazaars in Shahdara, Hall Road, Ichra and Babu Sabu. The elite Dolphin Squad of the police also conducted a flag march that passed through different parts of the city.
On the other hand, TLP resumed the long march from Gujranwala in the afternoon. They stopped for a while near Rahwali before resuming the march. By nightfall the protestors had reportedly reached Wazirabad.
A few incidents of violence were reported near Wazirabad bypass. The protestors had a plan to go to the bridge on GT Road but clashes were reported, following which they changed the route to Wazirabad city.
COMMENTS
Comments are moderated and generally will be posted if they are on-topic and not abusive.
For more information, please see our Comments FAQ