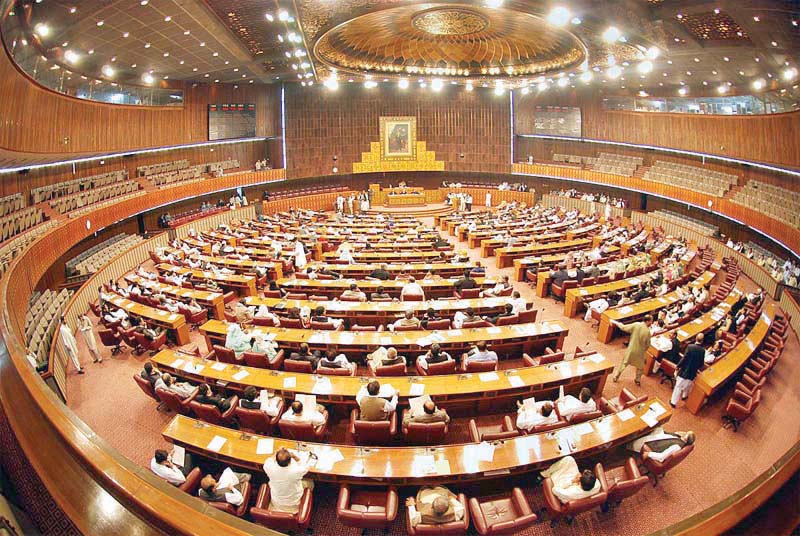 ---
ISLAMABAD:
As relayed earlier by Special Assistant to the Prime Minister on Parliamentary Affairs Babar Awan, parliament is likely to hold a joint session in the first week of November.
According to sources familiar with the matter, the exact date for the session will be decided on Thursday (today).
During the joint session of parliament, a large number of amendment bills will be tabled for approval including the electronic voting machine and Indian spy Kulbhushan Jhadav.
It may be recalled that during the National Assembly session last week, the government had succeeded in approving presentation of 14 amendment bills for the joint session of parliament.
Read More: EVM use needs sanction of parliament: IHC
Among other proposed legislations, the bills likely to be tabled for approval in the joint parliamentary session include Maritime Security Agency Amendment Bill, Port Qasim Authority Amendment Bill, Pakistan National Shipping Corporation Amendment Bill, Gwadar Port Authority Amendment Bill. National College for Arts Institute Bill, Companies Restructuring Amendment Bill, Academy Literature Amendment Bill, Financial Institutions Secure Transactions Amendment Bill, SBP Banking Services Corporation Amendment Bill, Loans for Agricultural, Commercial and Industrial Purposes Amendment Bill, Immigration Amendment Bill, Muslim Family Law Amendment Bill and the Privatisation Commission Amendment Bill 2021.
COMMENTS
Comments are moderated and generally will be posted if they are on-topic and not abusive.
For more information, please see our Comments FAQ