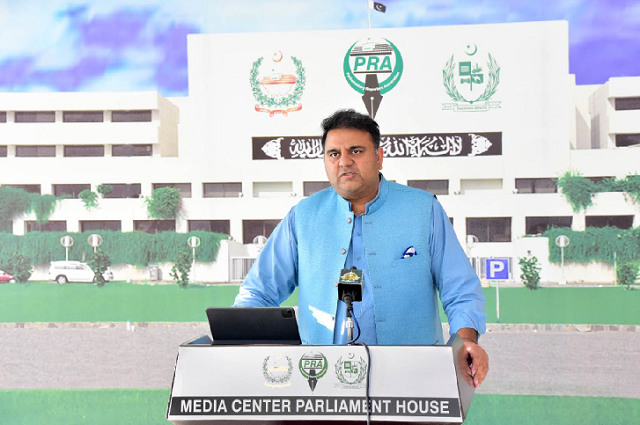 ---
DUBAI:
Information Minister Fawad Chaudhry on Saturday said that Prime Minister Imran Khan was also very popular in neighbouring India and if he held a rally in Delhi today, it would be bigger than that of Indian Prime Minister Narendra Modi.
Addressing a news conference in Dubai, United Arab Emirates (UAE), the minister said that Pakistan wanted good relations with India, but unfortunately, an anti-Muslim government was in power there. He added that Modi had targeted Pakistan everywhere.
"Imran Khan is also very popular in India. If Imran Khan holds a rally in Delhi today, it will be bigger than Modi's," the minister said. He pointed out that there was a big cricket match between Pakistan and India on Sunday (today) in the UAE and "everyone is excited for the victory of the Pakistan team".
About Afghanistan, the minister stressed that Pakistan's efforts for peace in the war-torn country continued as Islamabad was desirous of stability in its western neighbour. "The situation in Afghanistan has a direct impact on Pakistan," he said.
On the issue of recognition of the Taliban regime, he said Pakistan would take regional countries along on this issue. "Pakistan will not recognise the Afghan government unilaterally," the minister said, adding that talks were being held with the Taliban for taking other groups along.
Read TTP talks meant to 'wean off reconcilable elements': Fawad
On domestic issues, the minister attributed that depreciation of the Pakistan rupee to the smuggling of dollars to Afghanistan. About the issue of price hikes and inflation, he said that outbreak of coronavirus raised commodity prices worldwide.
"Despite the difficulties from the coronavirus pandemic, we are trying to provide relief to the people," the minister said, adding that this year there had been bumper crops of wheat, sugarcane, and maize, as Rs1,100 billion had been added to the national economy in the field of agriculture.
The textile industry, he continued, was also booming and it had booked orders till 2023, besides a record Rs600 billion had been invested in the construction sector, which created 300,000 new jobs. He added that foreign remittances were also very high which boosted the foreign reserves.
The minister reiterated that the government stood by overseas Pakistan if they faced any difficulty. "Prime Minister Imran Khan had given honour to the Pakistani passports and he has taken many steps for overseas Pakistanis. Giving the right to vote to Pakistanis abroad is a priority of the government."
COMMENTS
Comments are moderated and generally will be posted if they are on-topic and not abusive.
For more information, please see our Comments FAQ