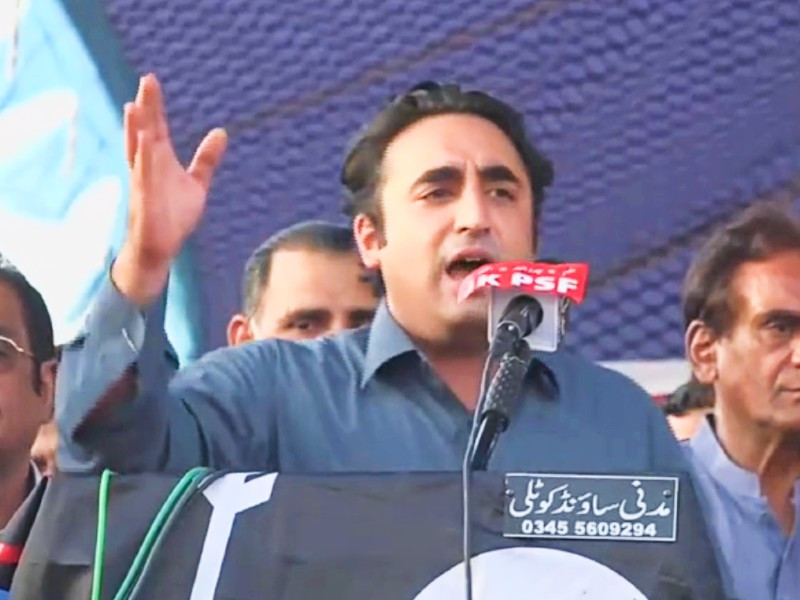 ---
ISLAMABAD:
Pakistan People's Party (PPP) Chairperson Bilawal Bhutto Zardari on Thursday weighed in with the opposition's suggestion of ousting the incumbent government in order to get rid of prevailing issues, including rising inflation.
In the wake of the recent price hike on essential items and petroleum products, the opposition had fired a broadside at the federal government and demanded of it to care for the people in such trying times.
Moreover, the multi-party confab – the Pakistan Democratic Movement (PDM) – has also announced anti-inflation protests across the country as part of its move to build pressure on the government.
"[Prime Minister] Imran Khan is an incompetent leader. Imran will have to be ousted in order to get rid of inflation," Bilawal, the scion of the Bhutto dynasty, said in a message to the party workers protesting against the rising inflation in Charsadda, Khyber-Pakhtunkhwa. The PPP chairman praised the party workers for taking to the streets.
The PPP, including all the main opposition parties, has been wary of the ruling party's policies and often labelled it as "PTIMF" – because of "accepting IMF prescribed measures without caring for people's woes".
Read Only PPP can deliver on Seraiki province promise
Bilawal alleged that over the three years of its rule, the PTI government has made Pakistan the world's fourth expensive country. He claimed that today, the country is on the brink of economic collapse because of PM Imran's wrong strategy.
According to the media reports, the recent price hike on POL products has been witnessed all over the world, with experts terming it the economic impact of the coronavirus as countries return to normalcy the demand for products has surpassed the overall production and supply chain cost.
"People's historic participation at PPP's continuous protests against inflation across the country is a charge sheet against the elected government," the PPP chairman said and urged the party workers to continue demonstrations against the inflation.
COMMENTS
Comments are moderated and generally will be posted if they are on-topic and not abusive.
For more information, please see our Comments FAQ