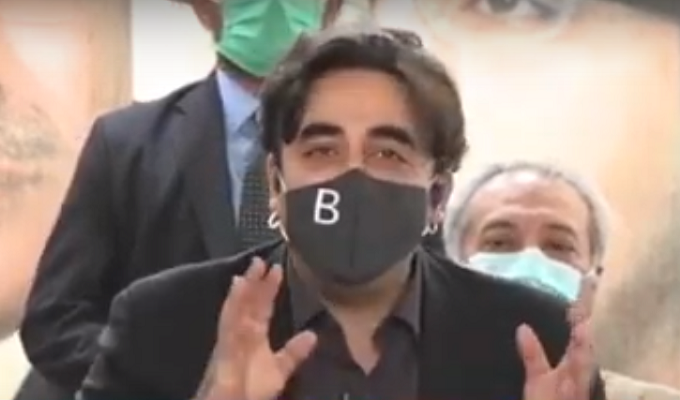 ---
RAHIM YAR KHAN/ ISLAMABAD:
Pakistan Peoples Party (PPP) Chairman Bilawal Bhutto Zardari on Friday lashed out at Prime Minister Imran Khan for "copping out" of his commitment to establish Wasaib (Seraiki province), terming the government's move to empower the bureaucracy of the south merely a "lollipop".
Addressing a workers' convention Rahimyar Khan's Bahadurpur, the PPP chairman said PM Imran's decision betrayed an underlying unwillingness to give the people of Waseb a right to have their own province - an issue that the Bhutto scion has vigorously echoed various times during his anti-government campaign in south Punjab."
The PPP gave identity to the people of Khyber Pakhtunkhwa and we will give the people of Waseb their own province. We passed a bill in this regard from the Senate with two third majority," he said.
Dubbing PM Imran Khan a "tyrant", Bilawal said that the PPP has had a long tradition of challenging tyrants "from General Yahya, General Zia to General Musharraf".
Read PPP will form govt in Centre, Punjab: Bilawal
"This 'puppet' made his way to power with tall claims of creating 10 million jobs, 5 million houses and eradication of corruption in 90 days but all his promises have proved to be a lie."
Bilawal said that instead of delivering on his campaign promises, the PTI-led government had rendered millions of people jobless and snatched shelter from above their heads in the name of ending encroachments.
The PPP chairman noted that there was a stark difference between the economic policies of PTI and PPP, adding that during the latter's tenure, "regardless of the fact that the entire world had collapsed under the worst recession, we started BISP to empower poor women".
"We increased salaries by 120 per cent and pensions by 100 per cent. We increased soldiers' salaries up to 175 percent because they were fighting the terrorists. Today people of Pakistan cannot buy medicine for their elders.
Today young people have been deprived of employment."Chairman Bilawal said that, "we had changed Imran's majority into a minority when Yousuf Raza Gillani won a seat from Imran Khan's constituency".
Referring to his political rivals in Pakistan Democratic Movement (PDM), Bilawal said, "we still ask our friends in opposition to bring a no-confidence motion against puppet of a puppet, Usman Buzdar".
"Our friends do not want to use their votes despite raising slogan of "vote ko izzat do". We were preparing for long-march but our friends linked it with resignations," he said, adding that,
"If they do not want to do this then they should resign as per their own strategy".
Read more Would have sent the govt packing if not 'deceived': Bilawal
Now we will chase out this puppet prime minister with the help of jiyalas, he reiterated.
"We have to get rid of this government so that people get relief from historic price-hike and unemployment. I can see that Jiyalas are ready to chase Imran Khan out and establish a true people's government so that we can fulfil the promises of Shaheed Zulfikar Ali Bhutto and Shaheed Mohtarma Benazir Bhutto."
Earlier in the day, Chairman Pakistan Peoples Party Bilawal Bhutto Zardari spent a busy day during Rahim Yar Khan's visit.
He visited the homes of party leaders and offered condolences to them on the demise of their relatives.
Chairman Bilawal Bhutto Zardari also offered condolences to Sardar Muhammad Ranjha Khan Gopang, Sardar Darya Khan Faiz and Habib-ur-Rehman Gopang at Ranjha Khan Estate.
COMMENTS
Comments are moderated and generally will be posted if they are on-topic and not abusive.
For more information, please see our Comments FAQ