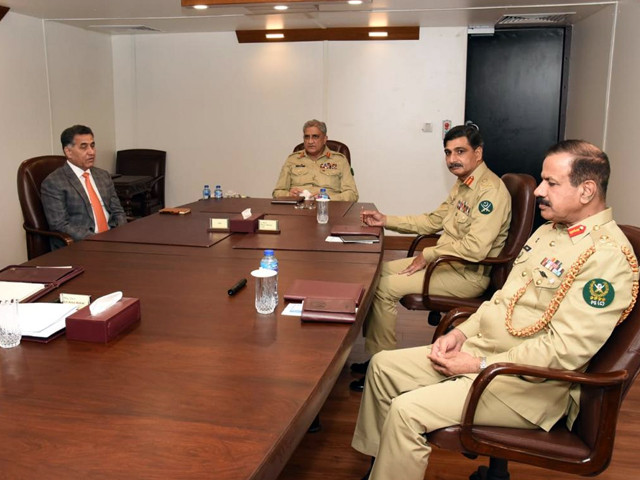 ---
Chief of Army Staff (COAS) General Qamar Javed Bajwa on Monday visited the headquarters of Inter-Services Intelligence (ISI), a statement issued by the Inter-Services Public Relations (ISPR) said.
According to the military's media wing, the army chief was received by Director-General ISI Lieutenant General Faiz Hameed. General Qamar was briefed on the internal security and ongoing situation in Afghanistan.
The ISPR further said that the COAS expressed his satisfaction over the preparedness of the organisation.
The army chief's visit came after the ISPR on October 6 announced the appointment of Lt Gen Nadeem Ahmed Anjum – the Corps Commander, Karachi – as the DG ISI, the most coveted slot within the military hierarchy after the army chief.
Also read: Govt tries to ease tensions with army over DG ISI
Gen Nadeem replaced Lt Gen Faiz as head of the country's premier spy agency in a major reshuffle that also includes the new appointments of Karachi, Peshawar and Gujranwala corps commanders.
But the most significant appointment was the change of command at the ISI headquarters, often referred to as Abpara.
Lt Gen Faiz, as per the ISPR, was being posted as the Peshawar corps commander.
Also read: PM Imran, Gen Qamar briefed on Covid-19 measures at NCOC
A day later, the country was gripped by speculations that the prime minister had not signed the summary as he was not consulted before the new ISI chief's appointment.
Interior Minister Sheikh Rashid last week played down the reported rift between the government and army, saying that matters related to the appointment of ISI chief were "settled" and that an announcement in this regard would be made within a week.
The issue also came up for discussion during the federal cabinet meeting where the premier reportedly said the PM Office also had "sanctity" like the army.
Also read: Lt Gen Muhammad Aamer assumes charge of Gujranwala Corps
Earlier today, a change of command ceremony was also held at Gujranwala Cantt, the Inter-Services Public Relations said in a statement.
Lt Gen Syed Asim Munir handed over command of Gujranwala Corps to Lt General Muhammad Aamer, the military's media wing said.
Lt Gen Munir was posted as the Quartermaster General (QMG) earlier this month, according to the ISPR.
COMMENTS
Comments are moderated and generally will be posted if they are on-topic and not abusive.
For more information, please see our Comments FAQ