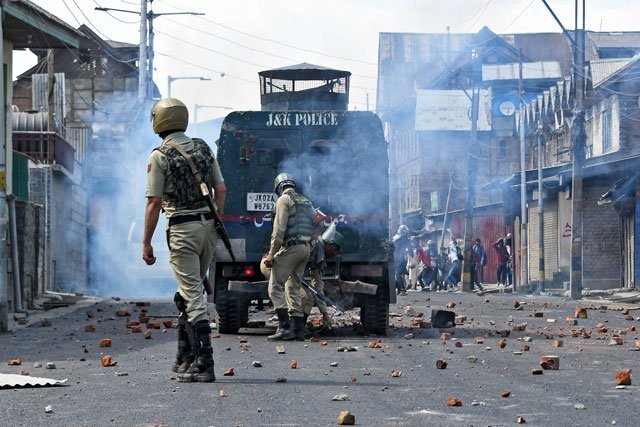 ---
NEW YORK:
Independent watchdog body commonly known as the Committee to Protect Journalists (CPJ) on Sunday called on authorities in Indian Illegally Occupied Jammu and Kashmir to "immediately release arrested journalists, cease detaining and questioning journalists apart from committing to allow the media to operate freely."
CPJ's Asia Programme Coordinator Steven Butler said India needs to move quickly to improve its shameful record of harassing and detaining critical journalists in IIOJK in complete abandonment of India's once-proud tradition of press freedom.
"Police must immediately release Salman Shah and Suhail Dar apart from allowing journalists to do their jobs without fear of reprisal," he added.
Citing news reports, the CPJ said four journalists were detained since October 8 but two were released subsequently and another was called in for questioning.
These journalists include editor Salman Shah, freelance journalists Suhail Dar, Mukhtar Zahoor, Majid Hyderi and Sajad Gul.
Read '75 Kashmiris killed in IIOJK since January this year'
CPJ added that the authorities formally arrested Dar and Shah last week and both remain detained at Anantnag district jail.
However, a local magistrate ordered detainment of Shah and Dar for two days.
On the evening of October 8, authorities summoned Dar to the Sadder police station in Kashmir's Anantnag district for questioning before detaining him, according to local media news reports and Dar's brother, Tariq Dar, who spoke to CPJ via phone.
Tariq told CPJ that the police had not informed the family of any reasons for his brother's detention.
Separately, on October 12, officers with the Sherbagh police station in Anantnag district detained Shah from his home in the Sheerpora area for questioning, according to a local media outlet and his brother Imran Shah, who spoke to CPJ via phone.
Imran Shah said that his family had not been informed of any police investigation into his brother until his formal arrest yesterday.
Both journalists have been accused of violating two sections of the Indian penal code, pertaining to "knowingly joining or continuing in assembly of five or more persons after it has been commanded to disperse" and abetment.
COMMENTS
Comments are moderated and generally will be posted if they are on-topic and not abusive.
For more information, please see our Comments FAQ