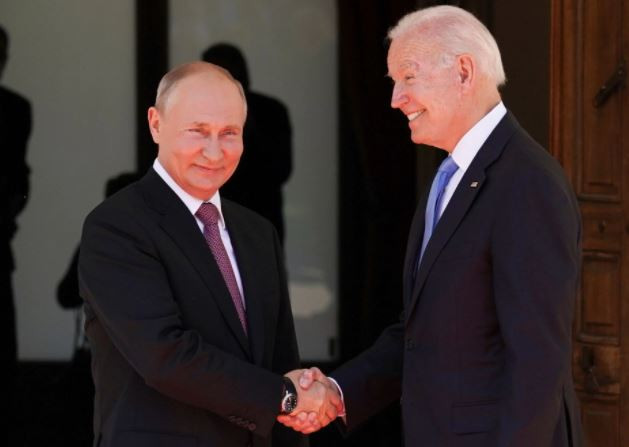 ---
MOSCOW:
The United States' involvement in Afghanistan has led to tragedy, Russian President Vladimir Putin said on Wednesday, one week before Russia is due to host the Taliban in Moscow.
After the United States and its allies withdrew their troops earlier this year after 20 years on the ground, the Taliban seized power in a lightning advance and the previous government collapsed.
A Moscow format meeting is scheduled for October 20 that will also discuss the possibility of holding a conference on Afghanistan under the auspices of the UN, the Russian foreign minister said.
Addressing a news conference in the Kazakh capital Nur-Sultan on Tuesday, Sergey Lavrov said Moscow is currently waiting for a response from the invited parties, including the Taliban.
Also read: Russia suggests holding UN conference on Afghanistan
"We hope they realise the importance of this event," he said. "As for humanitarian assistance, we, together with a number of other countries, want to propose, in particular, during the 'Moscow format' meeting, to hold a conference under the auspices of the UN to provide assistance, including humanitarian assistance to this country."
The Moscow format is a negotiation mechanism established in 2017 to address Afghan issues. It includes Afghanistan, China, Pakistan, Iran, India, and other countries. It held several rounds of talks in Moscow in 2017 and 2018.
The Taliban captured Kabul on Aug 15, forcing the president and other top officials to leave the country. They have formed an interim government headed by Hasan Akhund.
World powers have called on the group to form an inclusive government that is representative of the country's ethnic diversity.
Meanwhile, Italian Prime Minister Mario Draghi is hosting a virtual special G20 summit to discuss Afghanistan.
UN Secretary-General Antonio Guterres has urged for immediate action in Afghanistan. In a tweet, he said: "The economy of Afghanistan is breaking down. Banks are closing and essential services, such as healthcare, have been suspended in many places. I urge the world to take action and inject liquidity into the Afghan economy to avoid collapse."
COMMENTS
Comments are moderated and generally will be posted if they are on-topic and not abusive.
For more information, please see our Comments FAQ