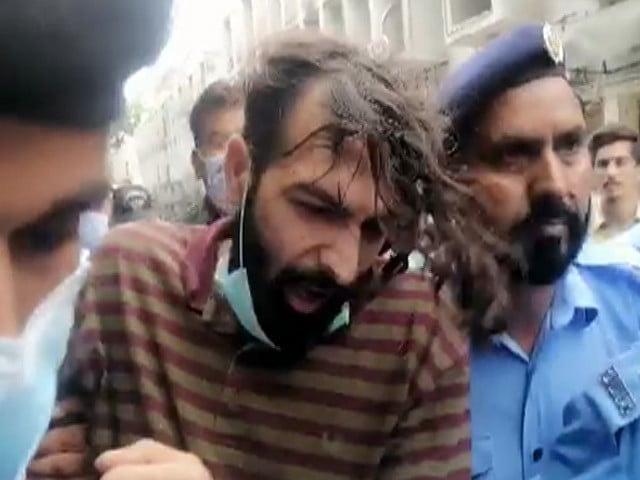 ---
ISLAMABAD:
The Supreme Court (SC) asked the Advocate General of Pakistan on Monday to provide material evidence regarding alleged involvement of Asmat Zakir in Noor Mukadam's murder.
The court's remarks came while hearing the petition pertaining to the bail pleas of parents of Zahir Jaffer, the prime accused in Noor murder case.
A three-judge bench led by Justice Umar Ata Bandial and comprising Justice Mansoor Ali Shah and Justice Qazi Amin conducted the proceedings.
During the hearing, Justice Mansoor Ali Shah inquired about the mention of Ismat Zakir's - the accused's mother - name in the Islamabad High Court (IHC) verdict. Justice Bandial then observed that there was no mention of her name in the decision.
The parent's counsel, Khawaja Haris, told the court that the accused in the case was Zahir Jaffer, adding that his parents were in Karachi at the time of the murder.
Justice Bandial responded saying, "We are just trying to understand the case."
Read Zahir gets public prosecutor to plead his case
Justice Qazi Amin then observed that, "The Noor Mukadam murder case is an extremely unfortunate one. We express sympathy with Noor's family."
He further stated that the court was seeking information so as to understand the facts related to the case.
Haris apprised the court that the forensic reports had not been received yet. Advocate General Islamabad informed the apex court that all forensic reports except those of the mobile phones used in the incident had been received.
The counsel also expressed apprehension regarding the right to fair trial getting affected by the IHC's ordering the case to be concluded within two months.
Read more Indictment of Zahir, others postponed
To this, Justice Bandial responded that, "The right to fair trial is mandatory, but a delay in concluding a case also leads to unrest."
Initially, the hearing was adjourned for a while; however, it was later adjourned till next Monday due to a demise in Justice Bandial's family.
On October 6, Zahir Jaffer's parents had approached the top court for post-arrest bail after the IHC rejected their bail plea.
Zakir Jaffer and Asmat Zakir had filed two separate pleas in the top court through their counsel.
It may be noted here that Zahir and Asmat are in police custody for "aiding and abetting" their son in the murder of Noor Mukadam.
COMMENTS
Comments are moderated and generally will be posted if they are on-topic and not abusive.
For more information, please see our Comments FAQ