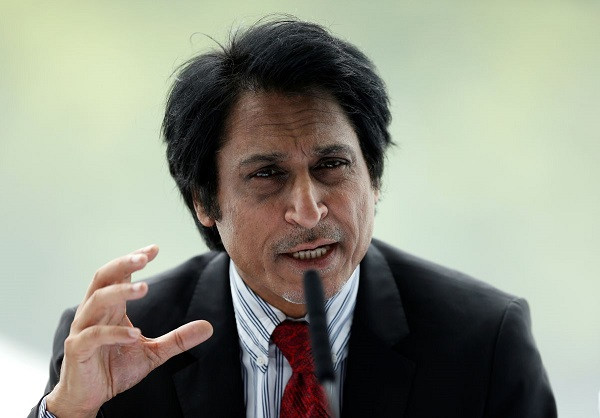 ---
ISLAMABAD:
Pakistan Cricket Board (PCB) Chairman Ramiz Raja intimated on Thursday that New Zealand Cricket (NZC) was looking to reschedule Pakistan tour, after they pulled out of the one-day international (ODI) and Twenty20 series last month.
The Black Caps had reached Pakistan on September 11 for the first time in 18 years to play three ODIs and five T20s but abandoned the tour moments before the start of the first ODI in Rawalpindi, claiming security threats.
"NZC are rescheduling the tour after being pressured by Pakistan and hopefully we will hear a good news next week," Raja said, while briefing the Senate Standing Committee on Inter-Provincial Coordination (IPC).
The committee meeting was chaired by Senator Mian Raza Rabbani, and attended by Gurdeep Singh, Mushtaq Ahmed Khan, Dr Sikandar Mandhro, Jam Mehtab Hussain Dahar, Irfan Siddiqui, Rana Maqbool Ahmed, besides IPC Minister Dr Fehmida Mirza and officials from the IPC ministry and the PCB.
Read New Zealand cricket team flies out of Pakistan amid 'security fears'
Raja said New Zealand officials did not share the nature of security threats with him. "New Zealand did not share the details of so-called imminent threat to their players on tour to Pakistan which is beyond comprehension," the PCB chairman told the committee.
Following New Zealand, England also called off a short tour. "Pakistan toured New Zealand and England during the tough restrictions of the Covid-19 pandemic but nobody from the cricket fraternity has come out to help Pakistan at this time," he said.
"Pakistan's case is very strong. Cricket experts around the world have supported our stance and have lambasted both the England and New Zealand cricket boards for the cancellation of the tours. There is huge pressure on English cricket board. I was told by the chairman of English cricket board that players were spooked after cancellation from the New Zealand cricket board," he added.
Rabbani asked about the ramifications for the board if the cancelled tours were not rescheduled. Raja replied that they had to find a way to exist with these Western cricketing nations, while showing strength as they could not go overboard.
Raja said he had written a strong letter to the International Cricket Council (ICC) on the matter, but there was also a lot of politics involved. "Fifty per cent of the funding for the PCB comes from the ICC," he added.
"The global body [ICC] gets 90% of its revenue from India, which necessarily means that Indian business houses run the Pakistan cricket. We are trying to diversify our revenue resources so that we can reduce this dependence gradually over the years to come."
The chair commented that the committee fully endorsed the PCB's letter to ICC. "Pakistan is not a pushover. Western countries must realise that Pakistan has rich cricketing history," Raza Rabbani said.
Raja said that he wanted to fix the whole system from top to bottom and there were many investors, who wanted to support the board for the betterment of the game and cricketers.
"The salaries of domestic cricketers were raised and now they will earn Rs40 million annually," he said. "The work on school level is also on the go as four banks are willing to take school teams."
Responding to a question whether this increase in remuneration for the first-class cricketers would be paid by the PCB, Raja said they were trying to bring in sponsors for this purpose. "We will make plans and go to these multi-nationals for support and effective financial and training models will be introduced."
The PCB chairman said they would introduce a system that if a club produced one cricketer, which would represent Pakistan at the international level, all the expenses of that club would be borne by the board.
In last few years, Raja continued, Pakistan had been a mediocre cricket team due to identity crisis and lack of ambassadorial role of cricketers. "I have taken this job as a challenge to fix things and it is our national duty to build the team," he said.
"Cricket pitches in Pakistan are not up to the mark. Coaching system at the grass root level is substandard. System needs direction, he said, adding that umpiring standard had also declined over the past few years. We will try to give a blueprint of our plans in four weeks' time for clarity," he said.
Responding to various questions from the committee members, Raja said he had a very firm stance on the tainted cricketers. "Cricketers who have been involved in match-fixing and have damaged the country's image should not be allowed to play."
The committee also discussed the issue of departmental sports system. IPC Minister Dr Mirza clarified that the departmental sports were not being abolished, however, under a new sports policy regional sports would be encouraged.
The committee was informed that Prime Minister Imran Khan was of the view that selection for departmental teams was not based on merit, while regional sports teams got more following and interest from the people.
Read more After NZ, England also call off Pakistan series
Senator Mushtaq Ahmed was of the view that a shift from departmental system to regional one should not be done in haste and all aspects needed to be considered before going ahead. The committee chair said that the proposed sports policy would be taken up again during an in-camera meeting.
He also appointed a three-member subcommittee to look into the working, functions and constitutions of 41 sports federations in Pakistan.
During the meeting Olympians Talha Talib and Arshad Nadeem were also present. The committee members praised their impressive performance at the Tokyo Olympics. "You both worked hard for Pakistan's victory and the whole nation is looking at you," the chair said.
Arshad Nadeem said he had to face many difficulties in terms of training. "Every player tries to find a job first when it comes to sports and I have got a job in Wapda since 2015," he said. Both athletes were also given honorary shields by the committee.
COMMENTS
Comments are moderated and generally will be posted if they are on-topic and not abusive.
For more information, please see our Comments FAQ