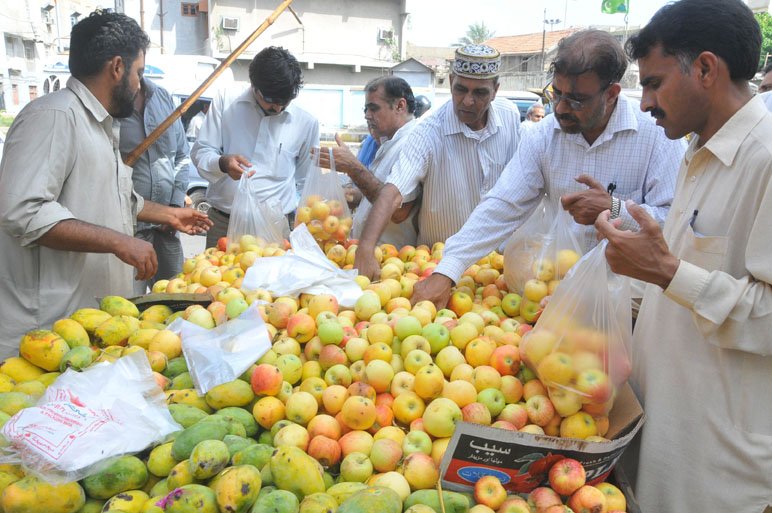 ---
ISLAMABAD:
Inflation rate shot up to 9% in September 2021 due to a significant increase in prices of food, electricity and fuel items, beating government and market expectations for a moderate inflationary pace.
Prices of those commodities that have a direct bearing on the daily lives of people increased more, even as the government continued to defend itself by quoting prices of goods in other countries in the weakening Pakistan currency.
The Consumer Price Index (CPI)-based inflation rate rose to 9% for the third successive month compared to a year ago, the Pakistan Bureau of Statistics (PBS) reported on Friday. It was the highest inflation rate in three months.
The Ministry of Finance and market surveys suggested around 8.4% inflation rate for September. The month-on-month inflation rate spiked to 2.1% in September over August - the highest in 15 months.
Inflation accelerated to 9.1% in urban areas and to 8.8% in villages, according to the PBS.
Food inflation spiralled in cities to 10.8% and in villages and towns it remained at the previous level of 9.1%.
PBS reported nearly 45% increase in prices of chicken, around 40% rise in prices of cooking oil, one-third increase in egg rates and nearly 20% increase in prices of wheat flour in September over the corresponding month a year ago.
On a month-on-month basis, wheat flour prices rose 10% despite Finance Minister Shaukat Tarin's promise to bring prices down to Rs55 per kg. There was over 15% increase in sugar prices.
Prices of essential food items have been increasing in double digits for a long time despite clear focus of Prime Minister Imran Khan to curb the increase.
The surge came amid a sharp fall in the value of the rupee in three months to Rs170.6 to a dollar on Friday. On May 3, the rupee had traded at Rs153.36 to a dollar, which lost Rs17.2, or 11% of its value, in just four months.
The reduction in the rupee value is pushing up the cost of every imported commodity including wheat, sugar, cooking oil, crude oil and raw material for industries.
Tarin on Friday said petrol prices in Pakistan were cheaper than the rest of the region and the world, adding that only 16 countries had lower prices - all of them being oil producers themselves.
He converted these prices into Pakistani currency. If calculated in Indian rupee-dollar parity, the per litre petrol price in Pakistan was $1.73 - the highest in the region, compared to $1.4 per litre in India and $1.2 in Bangladesh.
Similarly, Pakistan's per capita income is $1,540, which in India is $1,947 and in Bangladesh it is $2,100.
The finance minister said that prices of other essential items were being impacted all over the world due to the Covid-19 pandemic.
"We have been affected by that as well because we have become a food importer. We did not become a food importer in only three years but we have been facing the consequences of inadequacies in the agriculture sector for the last 30 years," said the finance minister.
Non-food inflation rate increased to 8.1% in urban areas and to 8.5% in rural areas in September, according to the PBS.
Core inflation - calculated by excluding food and energy items - inched up to 6.4% in urban areas last month, reported the national data collecting agency.
The food group saw an almost double-digit increase in prices in September compared to the same month a year ago.
Within the food group, prices of non-perishable food items rose 11.1% on an annualised basis and prices of perishable goods increased 15.3%, according to the PBS.
Inflation rate for the housing, water, electricity, gas and fuel group - having one-fourth weight in the basket - increased to 8.9% last month.
Average prices for clothing and footwear, and transportation groups rose 10% in September. In the non-food group, the prices of liquefied hydrocarbons increased nearly 54%, electricity 22.3% and petrol 17.6%.
The average inflation rate for the July-September period increased to 8.6% - slightly above the target. The average inflation rate in urban areas was 8.7% and in rural areas it was 8.4%.
Published in The Express Tribune, October 2nd, 2021.
Like Business on Facebook, follow @TribuneBiz on Twitter to stay informed and join in the conversation.
COMMENTS
Comments are moderated and generally will be posted if they are on-topic and not abusive.
For more information, please see our Comments FAQ