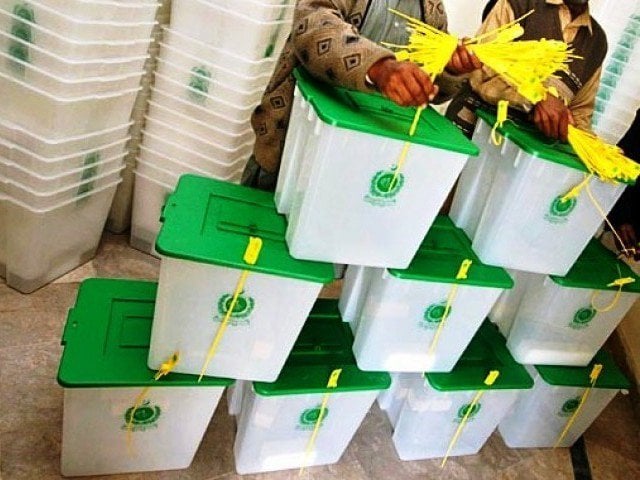 ---
ISLAMABAD:
The Election Commission of Pakistan (ECP) has given three more weeks to Federal Information Minister Fawad Chaudhry and Federal Railways Minister Azam Swati to submit their response to the notices served on them earlier seeking evidence of their allegations against the polls supervisory body expired.
In case of non-compliance, the commission has warned that it would take action against them under the Election Act.
It further warned that it might initiate contempt proceedings against the ministers.
Fawad had sought more time from the ECP to submit his reply while Swati opted to ignore the notice.
Swati, during a recent Senate committee meeting, had accused the ECP of taking bribes to rig elections and said such institutions should be "set on fire".
Later in the day, Information Minister Fawad Chaudhry had accused the chief election commissioner (CEC) of acting as a "mouthpiece for the opposition parties".
Their comments came in the wake of the Senate Standing Committee on Parliamentary Affairs after one-sided voting by opposition members rejecting key amendments to the Elections Act.
READ ECP to set deadline for holding LG elections
They included allowing e-voting, holding open Senate elections, giving Pakistanis living abroad the right to vote via internet and parliamentarians vacating their seats if they did not take oath within 60 days.
This came as a major blow to the government's plan to move ahead with holding the next elections using electronic voting machines (EVMs) and e-voting.
In a press release issued last week after a meeting of ECP officials presided over by CEC Sikander Sultan Raja, the body said it "objected to and rejected" the allegations against itself and its chief.
It added that evidence would be demanded from Swati for the comments he had made about the ECP in the standing committee meeting.
"The election commission has decided to issue notices to both ministers so further proceedings can be brought into effect regarding this matter," it read.
Section 10 of the Elections Act, 2017 that deals with ECP's power to punish for contempt read: "The
Commission may exercise the same power as the High Court to punish any person for contempt of court and the Contempt of Court Ordinance, 2003 (V of 2003), or any other law pertaining to contempt of court shall have effect accordingly as if reference therein to a 'court' and to a 'judge' were a reference, respectively, to the 'Commission' and the 'Commissioner' or, as the case may be, a member of the Commission."
COMMENTS
Comments are moderated and generally will be posted if they are on-topic and not abusive.
For more information, please see our Comments FAQ