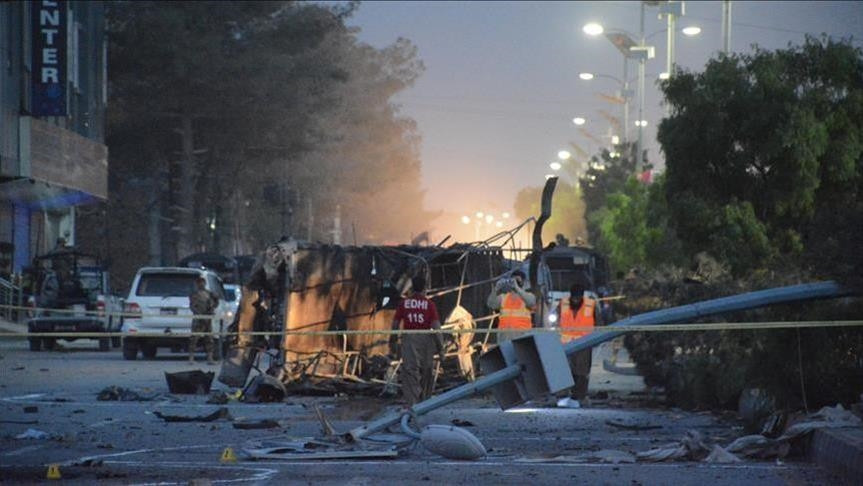 ---
KARACHI:
Security forces on Sunday killed the suspected mastermind of a 2018 election rally bombing that killed over 150 people and injured hundreds in the Balochistan province.
The alleged terrorist Mumtaz, also known as Mota Pehalwan, was killed in a security operation in Mastung district, located 50 kilometres (31 miles), from Quetta, the deputy commissioner of the district, Ilyas Kubzai, told reporters.
Read more: TTP claims responsibility for Peshawar attack on ANP leader as death toll rises to 20
Over 150 people were killed and more than 200 injured on July 13, 2018, in a suicide blast targeting the election rally of a local politician in Mastung.
The Da'ish terror group, also known as ISIS, had claimed responsibility for the attack.
Also read: Balochistan mourns Mastung carnage
Over the course of the last decade, Balochistan, and especially Quetta, has faced a deadly wave of violence and bombings.
Aside from its rich mineral deposits, the province is also a key route of $64 billion megaproject, China-Pakistan Economic Corridor (CPEC), which aims to connect China's strategically important northwestern Xinxiang province to Balochistan's Gwadar port through a network of roads, railways, and pipelines to transport cargo, oil, and gas.
COMMENTS
Comments are moderated and generally will be posted if they are on-topic and not abusive.
For more information, please see our Comments FAQ