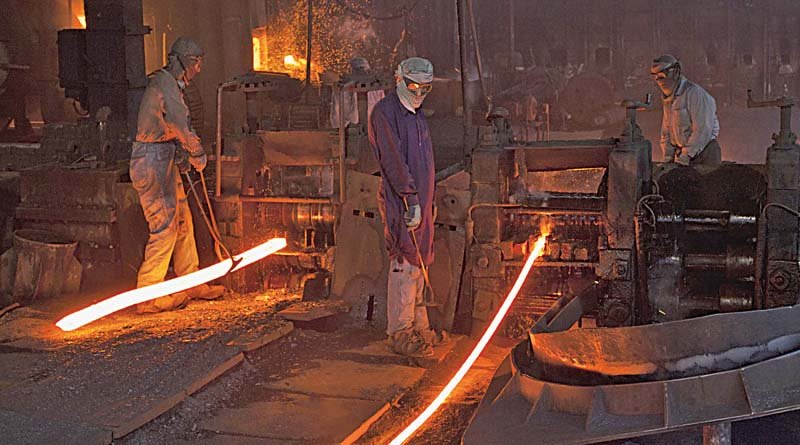 ---
KARACHI:
Steel rebar prices have continued to rise owing to depreciation of Pakistani rupee coupled with increase in energy tariffs.
With a recent hike of Rs6,000, the steel rebar prices are hovering around Rs179,000-Rs180,000 a ton as compared to Rs115,000-Rs120,000 per ton in September 2020, Taurus Securities' analyst Ameer Hamza told The Express Tribune.
In a statement, Pakistan Association of Large Steel Producers (PALSP) Secretary General Syed Wajid Bukhari highlighted "the government has not taken any decision so far to slash duties and taxes on import of steel scrap and it has been erroneously reported in a news report."
He mentioned that the association was urging the government to take supportive measures for a specific time period, including the removal of duties and taxes on raw material, up to 10% reduction in sales tax on steel rebar, levelised energy tariffs as given to the export sector and keeping exchange rate at the existing level.
He associated the surge in steel rebar prices to three factors - currency depreciation, hike in raw material prices in the international market and increase in electricity tariffs.
"Currently, the domestic steel industry is providing steel at lower prices as compared to other countries," he said.
Worrying about continuous depreciation of the rupee, he said that the rupee was standing at Rs170 against the US dollar as compared to Rs157 in July 2021, which translated into a higher import cost of raw material.
"The devaluation of currency always increases inflation," he said, adding that the currency slide would send a negative signal to potential investors.
Power tariff went up by 37% to Rs17.72 per unit in August 2021 from Rs12.88 in the same period last year, Bukhari lamented.
He highlighted that a notification had been issued, which would further increase the tariff by Rs2.97 per unit from October 1, 2021 across the country.
"This will result in an additional burden of approximately Rs4,000 on steel prices," he said.
Bukhari stated, "The government is trying to give an impression that it has given relief to the industry, which is not correct."
The government has promulgated the Third Amendment Ordinance 2021 in which tax rate for imported scrap has been reduced from 17% to 14%.
The news was circulating that the government had slashed sales tax from 17% to 14% for the entire steel sector, he said, adding that the amendment was related only to the steel melters importing scrap for further processing.
"For the other steel industry, including re-rollers, traders, etc, the sales tax will remain at 17% as before," he stated. "Also, it will only affect the cash flow of steel manufacturers and not the prices, as input tax does not become part of the cost of a product," he added.
In the same ordinance, the government has abolished further tax, which was imposed inadvertently. "It was an anomaly which the government has rectified and also it will only affect the price mechanism for the unregistered customers and not the entire customer base," he said.
Published in The Express Tribune, September 25th, 2021.
Like Business on Facebook, follow @TribuneBiz on Twitter to stay informed and join in the conversation.
COMMENTS
Comments are moderated and generally will be posted if they are on-topic and not abusive.
For more information, please see our Comments FAQ