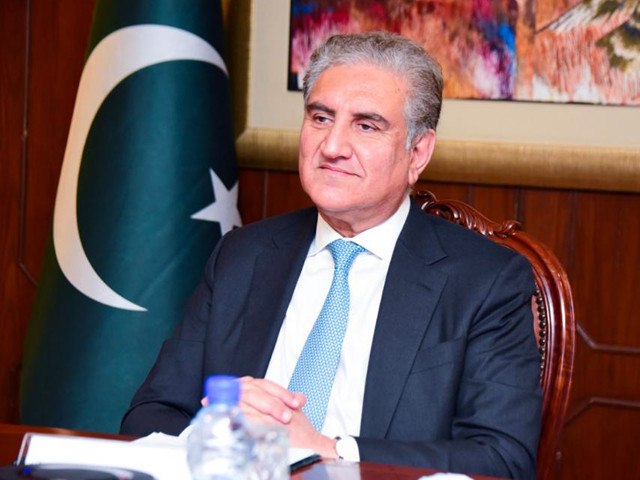 ---
Foreign Minister Shah Mahmood Qureshi on Friday reaffirmed Pakistan's desire for a broad-based, strategic partnership with the United States that would advance the two countries' shared interests in the bilateral and regional spheres.
According to a press release issued by the Ministry of Foreign Affairs (MoFA) FM Qureshi expressed the resolve during a meeting with US Republican Senator James Risch on the sidelines of his United Nations-related engagements in New York.
Qureshi highlighted Pakistan's commitment to facilitating efforts for achieving an inclusive political settlement in Afghanistan, MoFA added.
The communiqué further added that the foreign minister stressed the importance of a stable and broad-based government in Afghanistan to ensure that Afghan territory is not exploited by transnational terrorist groups again.
"While it was important to hold the Taliban to their commitments, the international community must help the Afghan people deal with the growing humanitarian crisis in Afghanistan," FM Qureshi noted.
Read More: Don't repeat past mistakes, Qureshi tells Blinken
Senator Risch agreed with the foreign minister on the need for continued cooperation between the two countries for peace in Afghanistan.
Meeting with Finnish counterpart
FM Qureshi also met his Finnish counterpart, Pekka Haavisto, in New York and discussed bilateral relations as well as regional and global issues of mutual interest, a press release by MoFA stated.
Qureshi underscored that Pakistan attached high importance to its relations with Finland and felicitated Foreign Minister Haavisto on the completion of seven decades of diplomatic relations between the two countries, according to MoFA.
The communique added that the foreign minister expressed Pakistan's resolve to further solidify its political and economic ties with Finland.
"Reopening of the Finnish Embassy in Islamabad would further facilitate trade relations as well as promotion of people-to-people contacts," the FM added. He also invited Minister Haavisto to undertake a visit to Pakistan at his earliest convenience.
Minister Qureshi also briefed his Finnish counterpart on Pakistan's perspective regarding developments in Afghanistan.
MoFA further added that Qureshi stressed the need to promote lasting peace and stability in Afghanistan through the active and sustained engagement of the international community to address the immediate humanitarian needs of the Afghan people and their long-term socio-economic development.
Qureshi further shared a dossier, documenting India's grave violations of human rights, international humanitarian law and UN Security Council resolutions in Indian Illegally Occupied Jammu and Kashmir (IIOJK), with Minister Haavisto.
COMMENTS
Comments are moderated and generally will be posted if they are on-topic and not abusive.
For more information, please see our Comments FAQ