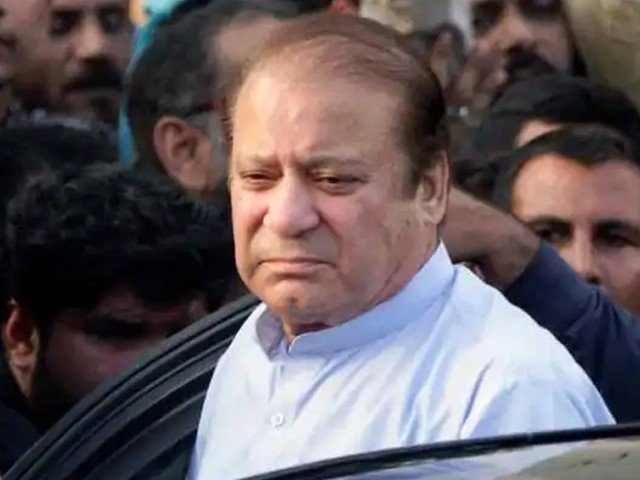 ---
LAHORE/ISLAMABAD:
The National Accountability Bureau (NAB) has announced initiating the process of recovering £8 million – the equivalent of Rs1.85 billion – from former convicted premier Nawaz Sharif in the Avenfield Apartments case.
According to a letter issued by the NAB Lahore DG's office, the deputy commissioners of Lahore and Sheikhupura had been directed to sell out all existing properties owned by the PML-N supreme leader.
According to the anti-graft body, they include an agricultural land measuring 940 kanals in Mauza Manak, Lahore; 299 kanals in Badhuki Sahni; 103 kanals in Mauza Mall, 312 kanals in Mauza Sultankey; a bungalow in Upper Mall, Lahore and 14 kanals in Mauza Mandiala, Sheikhupura.
NAB announced that the amount secured by the auction of these lands would be used on national development projects. It also clarified that if the amount recovered from the sold-out properties did not cover the amount of the fine, it would again authorise a fresh hunt for any other existing properties of the PML-N supreme leader.
Read 'Fugitive' Sharif has lost right to audience: IHC
The letter further read that after the conclusion of trial proceedings, an accountability court in Islamabad on July 6, 2018 had held that Avenfield Apartments numbers 16, 16-A, 17 & 17-A stood to be forfeited to the federal government.
The former premier, it added, had filed an appeal before the Islamabad High Court against the judgment.
The appeal was dismissed by the IHC on June 23 this year.
"Therefore, the judgment passed by [the] accountability court is considered as final after the accused failed to file an appeal in honorable Supreme Court of Pakistan," it added.
Separately, NAB on Tuesday requested the IHC to hear its appeal to extend the prison sentence handed down to Nawaz by an accountability court in the Al-Azizia reference in his absence.
An IHC bench comprising Justice Aamer Farooq and Justice Mohsin Akhtar Kayani was hearing the matter.
The court gave NAB until November 3 to prepare a summary of how it wanted to prosecute the case.
The NAB prosecutor argued that the accountability court had found Nawaz guilty but was lenient when handing down the jail term of seven years.
The court noted that Nawaz had appealed against the sentence which has been dismissed.
It asked the NAB prosecutor when Nawaz himself was not present, then how the appeal would go ahead.
It also raised questions about the accountability court's satisfaction with the evidence against the former premier.
It added that whether or not the trial court had written anything on why it was not giving the maximum punishment.
The prosecutor replied that there were various agreements in the form of evidence.
COMMENTS
Comments are moderated and generally will be posted if they are on-topic and not abusive.
For more information, please see our Comments FAQ