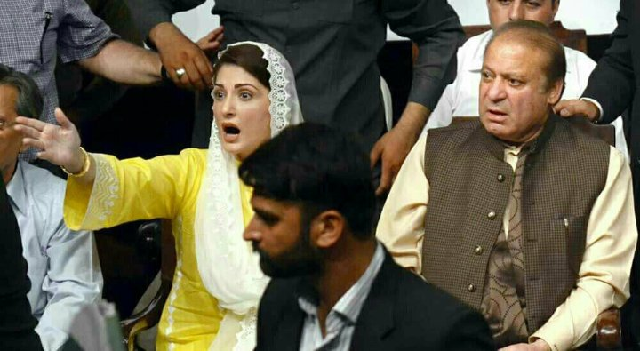 ---
ISLAMABAD: After almost 10 months of continuous trial, an accountability court on Friday found former premier Nawaz Sharif and two of his family members guilty in one of the four corruption references filed against them in line with the apex courtÔÇÖs July 28, 2017 order and awarded them ÔÇÿrigorous imprisonmentÔÇÖ and heavy financial penalties.

In the verdict on Avenfield Apartments reference announced by Judge Muhammad Bashir, the court sentenced Sharif to 10 years rigorous imprisonment, his daughter Maryam to 7 years rigorous imprisonment and son-in-law, Captain (retd) Muhammad Safdar, to one-year rigorous imprisonment.

The accused were also disqualified to contest election or to hold public office for a period of 10 years to be reckoned from the date they are released after serving the sentence and they shall not be allowed to apply for or to be granted or allowed any financial facilities in the form of a loan for a period of 10 years from the date of their conviction within the meaning of section 15 of NAO 1999.

The historic decision was to be announced earlier but after multiple delays, the judge read out the operative paragraphs of the 174-page judgment at around 4:30 in the absence of the accused.

Nawaz, Maryam decide to return for accountability court hearing

The father-daughter duo, currently in London to visit SharifÔÇÖs ailing wife, had requested the court to defer the announcement of the verdict for seven days, stating that they wanted to be in court to hear the judgement. However, the plea was dismissed and the verdict was announced in their absence.

The court held that ÔÇ£heavy burden was shiftedÔÇØ to the former premier as all four ingredients were established. These ingredients were with regard to SharifÔÇÖs (a) holding public offices, (b) nature and extent of his pecuniary resources or properties (c) his sources of income known after thorough investigation and (d) his resources or properties being disproportionate to his known sources of income.

The judge held that Nawaz Sharif was a public office holder, remained Punjab chief minister, finance minister, prime minister and member of National Assembly, and the London properties had been purchased through offshore companies Nielson and Nescoll during the years 1993, 1995 and 1996.

He noted that the prosecution in the circumstances of the case and evidence produced had established that Avenfield flats were not purchased from sources of income shown by the accused in their CMAs.

Court to announce Avenfield reference verdict on July 6

ÔÇ£All the four ingredients of the offence as defined u/s [under section] 9(a)(v) of NAO 1999 are established therefore heavy burden was shifted to the accused to account for assets Avenfield apartments that those are not disproportionate to known sources of their income,ÔÇØ he said.

ÔÇ£The prosecution had succeeded to bring home the guilt of the accused. The guilt of the accused Nawaz Sharif u/s 9(a)(v) NAO 1999 read with Serial No.2 of the schedule attached with the said ordinance is punishable under section 10 of NAO.

ÔÇ£Nawaz Sharif is hereby convicted and sentenced to rigorous imprisonment for a term of ten years with a fine of 8 million pounds (Rs1.92 billion),ÔÇØ the judgment read. It added that the former PM is also convicted under schedule offence for one year and both the sentences would run concurrently.

Interestingly, the court acquitted the accused under section 9(a)(iv) NAO, saying the ÔÇ£prosecution have not bright evidence in respect of 9(a)(iv) NAO 1999. So the accused are acquitted under the section of law.ÔÇØ

Section 9(a)(iv) of NAO states: ÔÇ£if he by corrupt, dishonest, or illegal means, obtains or seeks to obtain for himself, or for his spouse or dependents or any other person, any property, valuable thing, or pecuniary advantage.





In section 9(a)(v), it is stated: ÔÇ£if he or any of his dependents or benamidar owns, possesses, or has acquired right or title in any assets or holds irrevocable power of attorney in respect of any assets or pecuniary resources disproportionate to his known sources of income, which he cannot reasonably account for or maintains a standard of living beyond that which is commensurate with his sources of income.ÔÇØ

The judge reasoned that generally, children remain dependent on their parents during their tender ages, therefore, Sharif cannot say that he had not provided any money to them to purchase the apartments.

He held that Sharif is also responsible to account for properties in name of his sons/daughter during their tender ages, adding that it was also in evidence that Sharif and his father Mian Muhammad Sharif used to reside in the said apartments.

Avenfield reference: Nawaz, Maryam get weekÔÇÖs exemption from court

ÔÇ£The entire family daughter, sons and father are one and the same monolith. The accused Mian Nawaz Sharif cannot disassociate by oral assertions that he has got no connection,ÔÇØ the judge stated.

The ages of children ÔÇô Hussain, Maryam and Hassan ÔÇô in the year 1993 were about 20, 18 and 16, respectively, when the London properties were purchased ÔÇô and they were studying those days.

ÔÇ£They were dependent financially and could not purchase Avenfield apartments without the financial assistance of anyone else/father,ÔÇØ the judge held, adding that the story of investment with Qatari royal family is also not convincing one.

The court observed that Sharif and his children have never stated that the bearer shares of two companies ÔÇô Nielson and Nescoll ÔÇô were procured as a result of investment with Qatari royals in their interviews and speeches.




COMMENTS (14)
Comments are moderated and generally will be posted if they are on-topic and not abusive.
For more information, please see our Comments FAQ