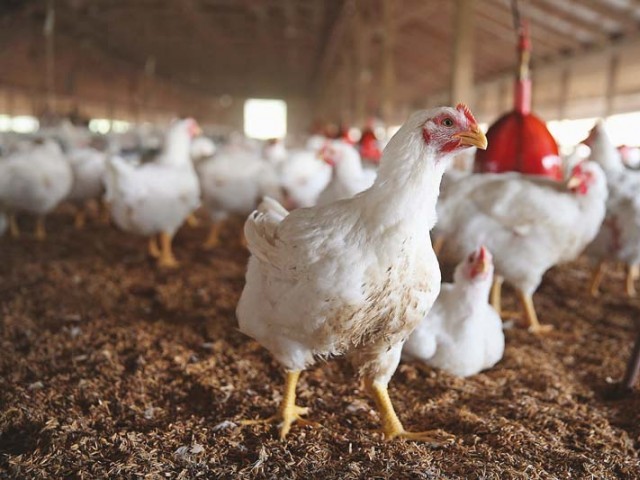 ---
PESHAWAR:
Peshawar High Court (PHC) Chief Justice has lifted ban on the exports of poultry and livestock and voiced his anger over the open selling of milk mixed with dangerous chemicals. He said that the milk shops involved in the illegal activity should be closed down. He directed the Livestock Department to take action in this regard and check the quality of the milk being sold.
A two member bench of PHC comprising of Justice Qiasar Rasheed and Justice Syed Arshad Ali heard the case about the prices hikes of poultry and livestock products. Secertery Food, DG Livestock, Advocate General K-P the petitioners lawyers also appeared in the court. The court was informed that on June 1st the court had banned the exports of chicks, chicken and cattle heads to Afghanistan and this ban was still effective. Secretary Food informed the court that the prices of broiler birds and day-old chicks had been fixed with the consultation of Poultry Association and if overprices are reported than the exports to Afghanistan will be banned.
He informed that the day-old chick will be sold at Rs50 while the chicken will be sold at Rs214 per kilogram.
Read PM reiterates need for stable Afghanistan
If the price of the chicks is Rs70 then the chicken prices will be fixed at Rs230 per kg.
He further added that if the prices exceeds Rs70 per chicks on the local market then the exports will be banned.
On this occasion Ishaq Ali Qazi informed the court that around 120 million chicks are produced in Pakistan per year in which 10 million are exported to Afghanistan earning $1 million for the country. He said that the ban of chicks exports has created a vacuum which could be filled by other countries. Baber Khan Yousafzai Advocate argued that the court should allow the exports of chicks because it was causing huge losses to the sector. Ijaz Sabi advocate informed that exports were going on from all over the country but there was ban only from K-P.
During the hearing Chief Justice showed his anger over the sale of chemical mixed milk on the market. He remarked that milked was mixed with chemicals and sold and what measures are taken to check it? The representative of the Livestock Department informed the court that shops involved in the business had been sealed. The Chief Justice directed that strict action should be taken against such people and their shops should be closed permanently. He also directed that the slaughter of sick animals should also be checked. The court announced the withdrawal of ban of the exports of poultry and livestock to Afghanistan.
Published in The Express Tribune, September 17th, 2021.
COMMENTS
Comments are moderated and generally will be posted if they are on-topic and not abusive.
For more information, please see our Comments FAQ