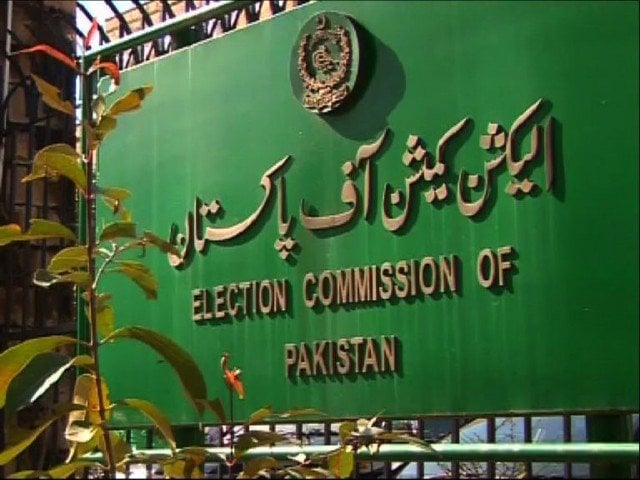 ---
ISLAMABAD:
The Election Commission of Pakistan (ECP) on Tuesday rejected the recent accusations hurled against it by two federal ministers and decided to send them notices to present evidence, if any, of their claims.
Swati, during a Senate committee meeting on Friday, had accused the ECP of taking bribes to rig elections and said such institutions should be "set on fire".
Later in the day, Information Minister Fawad Chaudhry had accused the chief election commissioner (CEC) of acting as a "mouthpiece for the opposition parties".
In a press release issued after a meeting presided over by CEC Sikander Sultan Raja and attended by Nisar Durrani, Shah Muhammad Jatoi and other ECP officials, the body said it "objected to and rejected" the allegations against itself and its chief.
It added that evidence would be demanded from Swati for the comments he made about the ECP in the standing committee meeting.
"The election commission has decided to issue notices to both ministers so further proceedings can be brought into effect regarding this matter," it read.
Read PML-N lashes out at govt over 'threats' to ECP
The ECP has also decided to seek record from the Pakistan Electronic Media Regulatory Authority (Pemra) as well as all the material regarding the standing committee remarks and the press conference to be presented before it.
Reacting to the development, Fawad tweeted that "respect for the ECP aside, but if [you] don't like [people] talking about individuals' political role, then keep your conduct apolitical".
The minister added that if he received a notice from the ECP, he would give a detailed reply to it.
He further wrote that individuals were not "immune to mistakes" and that "criticism is against individuals' conduct, not against an institution".
Separately, the CEC said there could be no further delay in the local government elections so the ECP would soon give orders for this purpose.
A three-member bench headed by the CEC heard the case of local government (LG) elections in Balochistan.
Balochistan LG Secretary Ahmed Raza and the province's advocate general appeared before the commission.
Also Read ECP reserves ruling on local elections in Sindh
The CEC said that after the cantonment board polls, the commission had to hold the LG elections.
"We are grateful to the defence ministry for holding the cantonment board polls, he added.
"Now, the provincial governments should fulfill their responsibility of holding the LG elections."
Raja said the ECP was going to issue orders for the LG elections as no further delay could be made because of problems.
"Local governments are the basis of democracy and people are being deprived of their democratic right due to their absence."
COMMENTS
Comments are moderated and generally will be posted if they are on-topic and not abusive.
For more information, please see our Comments FAQ