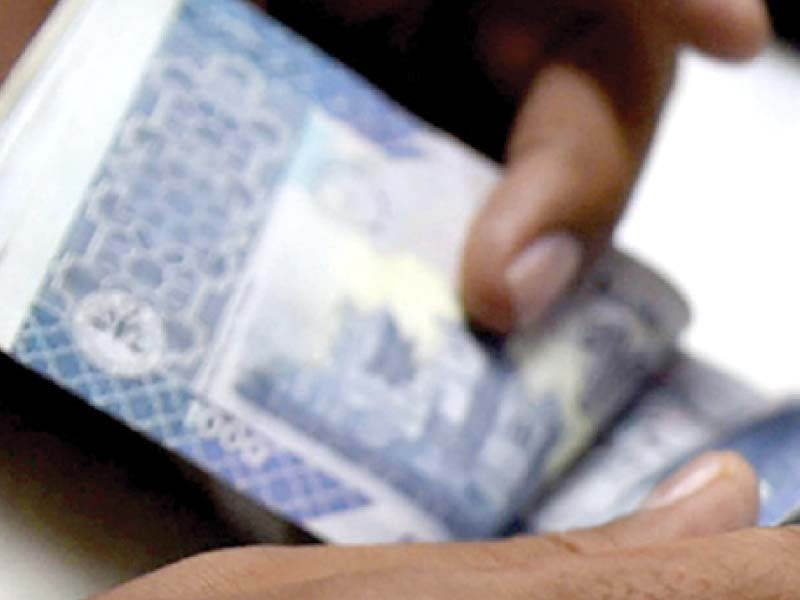 ---
KARACHI:
Taking cues from burgeoning import payments and trade deficit, the Pakistani currency hit an all-time low of Rs168.94 against the US dollar in the inter-bank market on Tuesday.
"Apparently, there is no space left for rupee to maintain the downturn," Ismail Iqbal Securities Head of Research Fahad Rauf said while talking to The Express Tribune. "If it drops any further, the decline would be unsustainable and short-lived."
"The rupee might consolidate at around the current level in the short-run and trade between Rs165-168 over the next six months (in medium run)."
During the day, the rupee breached the previous all-time low value of Rs168.43, reached on August 26, 2020, according to Pakistan's central bank's data.
With the latest drop of Rs0.84 in intra-day trading on Tuesday, the rupee has lost 7.28% (or Rs11.51) to date since the start of the current fiscal year on July 1, 2021.
The local currency has maintained downtrend after it touched 22-month high of Rs152.27 in May 2021, losing a cumulative 10.92% (or Rs16.63) in the past four months to date.
"The spike of over $1 billion in the country's trade deficit to over $4.2 billion in the single month of August is mounting pressure on rupee," Rauf said.
He elaborated the import payment hit historic high of around $6.4 billion in August while the previous peak was recorded in June at $6.3 billion. On the flipside, export earnings have remained sluggish at around $2.2 billion a month during the same months.
The uptrend in international commodity prices suggests that Pakistan's import bill would remain high going forward.
The prices of oil and food items are soaring in the world markets. In addition to this, businesses are set to make hefty import of plant and machinery to set up new factories and expand the existing production lines under the central bank's initiative Temporary Economic Refinance Facility (TERF), he said.
Imports are set to skyrocket due to the government's policy of expansion and growth in the domestic economy, he said.
The central bank has projected the country's trade deficit to widen to 2-3% of GDP in FY22 compared to 10-year low at 0.6% in FY21.
COMMENTS
Comments are moderated and generally will be posted if they are on-topic and not abusive.
For more information, please see our Comments FAQ