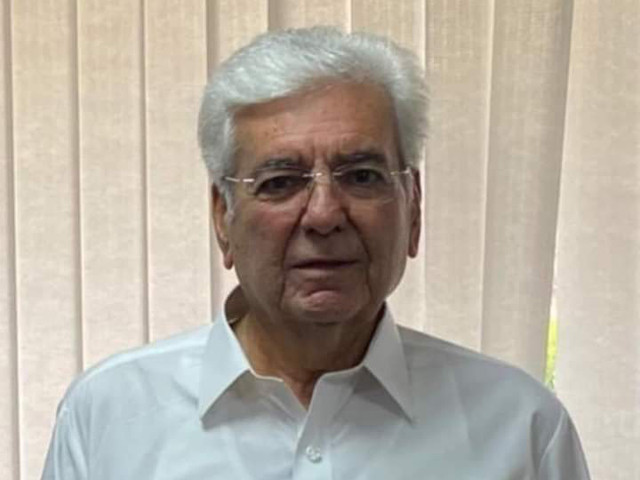 ---
PESHAWAR:
Veteran politician and former Khyber-Pakhtunkhwa president of Pakistan Peoples Party (PPP), Rahimdad Khan passed away on Saturday night.
Khan, who served as senior provincial minister in the 2008 K-P government, bid adieu to electoral politics in 2013.
His funeral prayer will be offered tomorrow (Sunday) in Hathian, a small town in K-P's Mardan district, according to party sources.
PPP Chairman Bilawal Bhutto Zardari expressed sorrow over the death of senior party leader and offered condolences to the bereaved family.
Bilawal paid tribute to the deceased leader saying Khan's political life is a role model for the youth.
پاکستان پیپلزپارٹی کے چیئرمین بلاول بھٹوزرداری کا خیبرپختونخوا کے سینئر سیاست دان رحیم داد خان کے انتقال پراظہار افسوس

چیئرمین بلاول بھٹوزرداری کی پی پی پی سینٹرل ایگزیکٹو کمیٹی کے رکن رحیم داد خان کے انتقال پر ان کے درجات کی بلندی اور سوگواران کے لئے صبر کی دعا@BBhuttoZardari pic.twitter.com/n7Zsllk6MZ

— PPP (@MediaCellPPP) September 11, 2021
K-P Chief Minister Mehmood Khan in his condolence message prayed for the departed soul and expressed grief over the demise of the seasoned politician.
Khan began his political career back in 1965 as a student, when he drifted into the emotional rhetoric of Zulfikar Ali Bhutto. His active political career, however, started in 1968-69 with the PPP.
He contested his first elections in the 1970s for a provincial assembly seat from his hometown of Mardan. Khan however lost the election by a small margin.
Read more: Illustrious career: Senior PPP leader Rahim Dad Khan says goodbye to politics
He won the 1977 elections and was made deputy speaker of what was then the North West Frontier Provincial assembly.
Khan won again in 1988, but did not enjoy the same luck in the 1990s. He also lost the 2002 elections when the Muttahida Majlis Amal swept the polls.
In the early 2000s, Khan served as PPP provincial president for a period of about five years.
In 2008, he won the elections from PK-27, Mardan-V, and served as Senior Minister for the Planning and Development department in the Awami National Party-PPP coalition government.
COMMENTS
Comments are moderated and generally will be posted if they are on-topic and not abusive.
For more information, please see our Comments FAQ