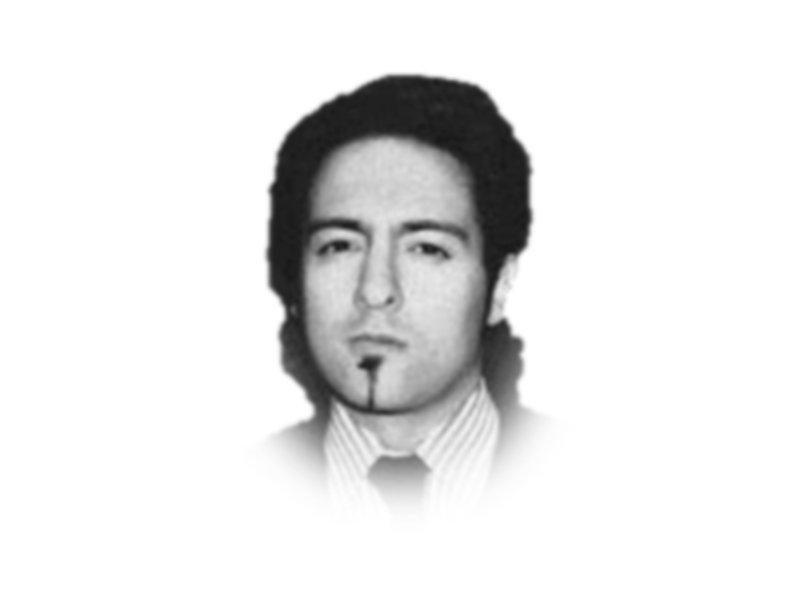 ---
No words will ever suffice to pay proper homage to Syed Ali Shah Geelani, the torchbearer of Kashmir's right to self-determination, and an indomitable spirit of resistance against Indian state oppression.
Geelani intuitively grasped the idea of Pakistan more than many Pakistanis do. His loss is not the loss of Kashmiris alone. His loss is the loss of Pakistan, a loss for humanity. In 2020, he was bestowed with the Nishan-i-Pakistan, the highest civilian award conferred to legends like Nelson Mandela and Fidel Castro.
Geelani's achievements must be in our Single National Curriculum teaching future Pakistanis the importance of struggling for human rights. Geelani is our Nelson Mandela, our Abdul Sattar Edhi, our Martin Luther King. His invincible spirit for self-determination forever lives in the beating hearts of brave Kashmiris. Now Geelani's struggle is truly our own.
Geelani was laid to rest at a graveyard in Hyderpora, Srinagar in a tightly controlled ceremony. The police snatched his body, burying him forcibly . Even after death, his presence haunts spineless Indian authorities.
Right after Geelani's demise, protests erupted in Srinagar eulogising Geelani while occupying forces imposed blockades and a total internet blackout amid huge army deployments in Hyderpora.
ISIS-K in Kashmir: A failure to act on Kashmir along with Afghanistan emboldens ISIS-Khorasan/ISIS Hind Province (ISHP), heightening cross-border militancy.
According to UN estimates, ISIS-K has 5,000 fighters in Afghanistan. The Kabul airport blast of August 26 shows that ISIS-K is operationally sophisticated. It is funded by India with recruitment sprees in Kerala where 14 Keralites sought to bomb the Turkmenistan mission in Kabul. India is likely to stir false-flag operations in the valley scapegoating ISIS-K increasing "manufactured terrorism" throughout the sensitive Sopore-Baramulla belt.
India's failure to grant Kashmiris a self-determination plebiscite increases Hizbul Mujahideen, Jaish-e-Mohammed and al-Qaeda-affiliated Ansar Ghazwatul Hind's Kashmiri influence.
Taliban 2.0 and Kashmir: After Geelani's passing, as Modi's BJP fails to ease restrictions on Kashmiris, the Afghan Taliban 2.0's influence might (covertly) seep into India-Occupied Kashmir (IOK), emboldened by rising regional militancy.
Though the Islamic Emirate vowed not to interfere in the internal affairs of other countries, in an interview with CNN-News18, Taliban leader Anas Haqqani said, "Kashmir is not part of our jurisdiction and interference is against our policy." In another interview with the Deccan Herald, Taliban spokesman Zabihullah Mujahid urged Pakistan and India to jointly resolve issues. Whereas Taliban's spokesperson Suhail Shaheen told BBC, "we have this right being Muslims, to raise our voice for Muslims in Kashmir and India."
Therefore on Kashmir Taliban 2.0 do not speak with "one voice".
Indian intransigence and Taliban 2.0's victory give a fillip to Kashmiri liberation movements. The Taliban 2.0 opportunistically play Pakistan and India. While they outwardly support Pakistan and appear pro-Kashmir, they simultaneously open diplomatic backchannels with India.
Taliban 2.0's 'Haqqani' faction favours Kashmiris' right to self-determination whereas Mullah 'Yaqoob' faction is pro-India. And while Suhail Shaheen is closer to Islamabad's stance on occupied Kashmir, Sher Abbas Stanekzai favours India.
Deepak Mittal, India's Ambassador to Qatar, met Stanekzai at India's Embassy . Stanekzai assured India that Afghan soil will not be used against Indian interests. Stanekzai's India bias is reinforced as he was trained at Dehradun's Indian Military Academy.
Regional geopolitical Implications: BJP's impunity imperils not only the citizens of IOK but the Dogras of Jammu, the Muslims in Pir Panjal, and the Buddhists in Ladakh to China's ire. China partially stepped back from Pangong Tso, but is unlikely to relinquish the Hot Springs, Gogra Post or the Depsang plains.
Kashmiris increasingly view the Indian military's incompetence compared to China's Ladakh success where Beijing captured 38,000 square kilometers.
India is to be checkmated in Kashmir — by China on the one side and by invigorated Kashmiri freedom fighters on the other. An emboldened ISIS-K in Afghanistan and al-Qaeda could exploit genuine grievances politically hijacking the legitimate cause of non-militant Kashmiri freedom activists.
Recommendations after Geelani's passing: Geelani chaired the All Parties Hurriyat Conference (APHC) seeking Kashmir's secession from India. In 2020, the departure of Geelani's APHC divided the party between the Hurriyat (G) led by Abdullah Gilani and a moderate Hurriyat (M) headed by Mirwaiz Umar Farooq.
After Geelani's passing, unrest in IOK persists due to the successive Indian governments failing to address the plight of Kashmiris — exacerbated by Indian Border Security Force's 1,595 ceasefire violations along the LoC in 2021, mortar shelling at Pakistani posts, and imposing Presidential rule allowing India's Cabinet to take unilateral decisions regarding Kashmir.
Geelani was tortured and placed under house arrest on 5 August 2019 after New Delhi stripped Jammu and Kashmir of its special status under Article(s) 370 and 35A of India's constitution. Article 370's revocation rewrites occupied Kashmir's history, demographically depopulates Muslims, encourages Hindutva settlements resembling Israeli-style 'settler colonialism'. Kashmiris are unlikely to get relief from the Indian Supreme Court. Their 74-year struggle will persist along with India's obduracy.
Kashmir's challenges after Geelani's passing: After Geelani, Kashmiri freedom movements mushroom in IOK. The BJP government must release legitimate Kashmiri leaders from prison, amidst a raging Covid-19 pandemic, fully demilitarise IOK, and end extra-judicial killings in Uri Baramulla, Budgam, Anantnag, Pulwama, Kupwara, Sopore and Srinagar.
Like the Israel Defence Forces, India's Central Reserve Police Force must demilitarise and stop carrying lethal weapons like pellet shotguns blinding civilians.
While helping Afghan refugees, the UN as well as Pakistani and Kashmiri activists must strategically synergise freedom efforts with other marginalised struggling nationalities forging a globally unified resistance solidarity movement.
The international community's silence on atrocities in Kashmir deafens. Whereas the Rohingya and Palestinians gain the required global media coverage (rightfully so), occupied Kashmir, the world's largest 'open air prison' is largely ignored, due to Modi's lobbying clout in Washington and EU bankrolling shady benefactors who ignore Kashmir.
India must grant Kashmiris a referendum on self-determination, complying with UN resolutions 1514 and 2649, building upon the goodwill generated by the 25 February, 2021 Pakistan-India LoC ceasefire pact.
Achieving the above we would be honouring Syed Ali Shah Geelani's exemplary legacy. Only then will the flame of freedom, ignited by Geelani, for future generations burn brighter. If in 2021 the international community does not act decisively on the burning issue of IOK, neither history will forgive us nor will our coming generations.
Published in The Express Tribune, September 11th, 2021.
Like Opinion & Editorial on Facebook, follow @ETOpEd on Twitter to receive all updates on all our daily pieces.
COMMENTS
Comments are moderated and generally will be posted if they are on-topic and not abusive.
For more information, please see our Comments FAQ