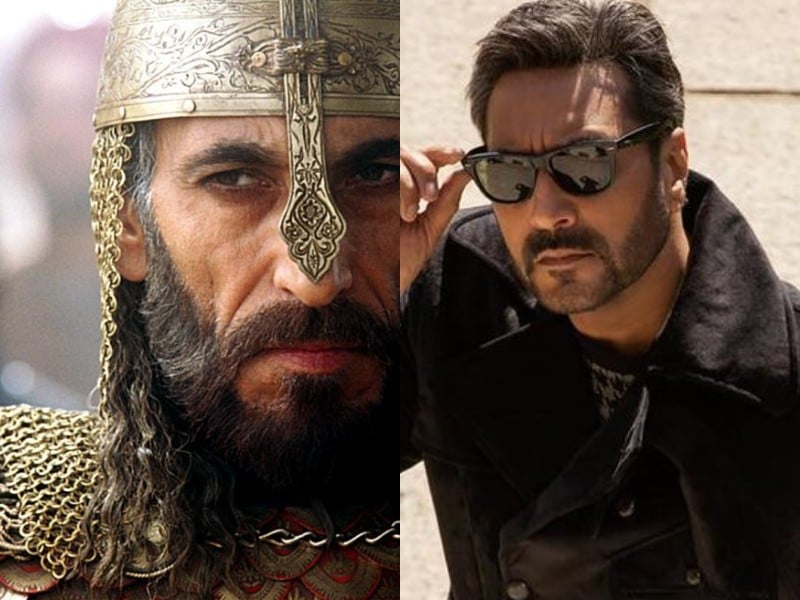 ---
Last week, Pakistan and Turkey jointly announced the production of a drama series on the rule of Sultan Salahuddin Ayyubi, the founder of the Ayyubi Empire.
Dr Kashif Ansari and Dr Junaid Ali Shah of Pakistan's Ansari & Shah Films – the production house helming the project – had shared details about the series with Independent Urdu. Now, actor Adnan Siddiqui, who is executive producing the period drama with Humayun Saeed, has shared information about the same with the outlet.
The Meray Paas Tum Ho star has said that actors from both Pakistan and Turkey would be considered for the series but 75% of them will be Turkish, including the actor playing Ayyubi. The process of roping in this actor is in its final stages and his name will soon be revealed.
He went on to clarify that the project isn't being represented by any government and is solely being produced under the banner of Ansari & Shah films in partnership with Turkey's Akli Films. Siddiqui, who is also waiting on cinemas to re-open to release his production debut Dum Mastam, relayed that the first season of his and Saeed's upcoming series will be shot entirely in Turkey while specific scenes of the second season will be shot in Pakistan.
The MOM star elucidated that although the series will be dubbed in a number of languages, the two languages it will be shot in are bound to be Urdu and Turkish, considering actors from both countries will be speaking in their own dialects. The co-producer assured that anyone who feels up to the mark and fits the bill, can audition for a role in the series to avail the opportunity of going to Turkey for training and eventually, becoming a part of the project.
As for his own onscreen presence, Siddiqui has not decided whether he will be staring in the show but has maintained that even if he wanted to, he would be auditioning like everyone else. The broadcasters for the series, slated for a March 2022 release, however, will be decided later on. It will comprise of three seasons with each season having four episodes.
Earlier, Siddiqui and Saeed had revealed that they are also executive producing upcoming television series Turkey Lala, in collaboration with the makers of Diriliş: Ertuğrul. Siddiqui had claimed Turkey Lala was just the beginning, since the series would do wonders for Pakistanis by opening doors for them internationally.
As for the series on Ayyubi, Dr Shah had promised that it would not just focus on recruiting skilled artists but hopefully show Pakistani filmmakers what it takes to make world-class production.
Dr Ansari, on the other hand, relayed that screenwriters for the series have enlisted the help of Turkish historians, researchers and authors to make it as close to reality as possible. He hoped that work on the series can be completed by September, after which, screen testing can begin once the characters are fully fleshed out.
As for the motivations behind creating the drama, Dr Ansari said, "The idea to make a series based on [Salahuddin] came about because he was admired and respected by Muslims and non-Muslims alike/ This series isn't meant to be just for the Muslims in Pakistan or Turkey, it is meant to show how great a ruler Salahuddin was, that his courage was appreciated by his opponents as well."
Dr Shah asserted that the series is meant for the six billion non-Muslims who are unaware of the contributions of Salahuddin and similar Muslim rulers. Speaking about the themes interwoven within the series, he elaborated, "The series focuses on the Quran, history and religious harmony. How the Quran can be used effectively to govern empires that are embraced by people of all religions."
When asked for an explanation for why they had chosen to collaborate with a Turkish production house, Dr Ansari shared that the two production houses had a similar vision, and Akli Films' experience in the field of historical dramas made them the perfect partners.
Having welcomed the project's offer from Pakistan, producer Emre Konuk, owner of Akli Films, had announced on Twitter on August 21, "A happy news on a blessed Friday night! Contract signed between Akli Films and Ansari&Shah Films about Sultan Selahaddin Ayyubi." He wished that the international joint project is beneficial "to our country and our art world."
Born in Tikrit, Iraq, Salahuddin Ayyubi is also known as the 'Conqueror of Jerusalem', taking over the region in 1138. Elaborating on the popularity of the historic figure, Dr Ansari explained that 'Salahuddin Day' is celebrated in honour of Salahuddin Ayyubi every year on June 9 in Norway.
He added that Richard I of England, also known as 'Lion Heart', who fought Salahuddin Ayyubi in battle once said that if there was one enemy he honoured from the heart, it was Salahuddin.
Have something to add to the story? Share it in the comments below.
COMMENTS
Comments are moderated and generally will be posted if they are on-topic and not abusive.
For more information, please see our Comments FAQ