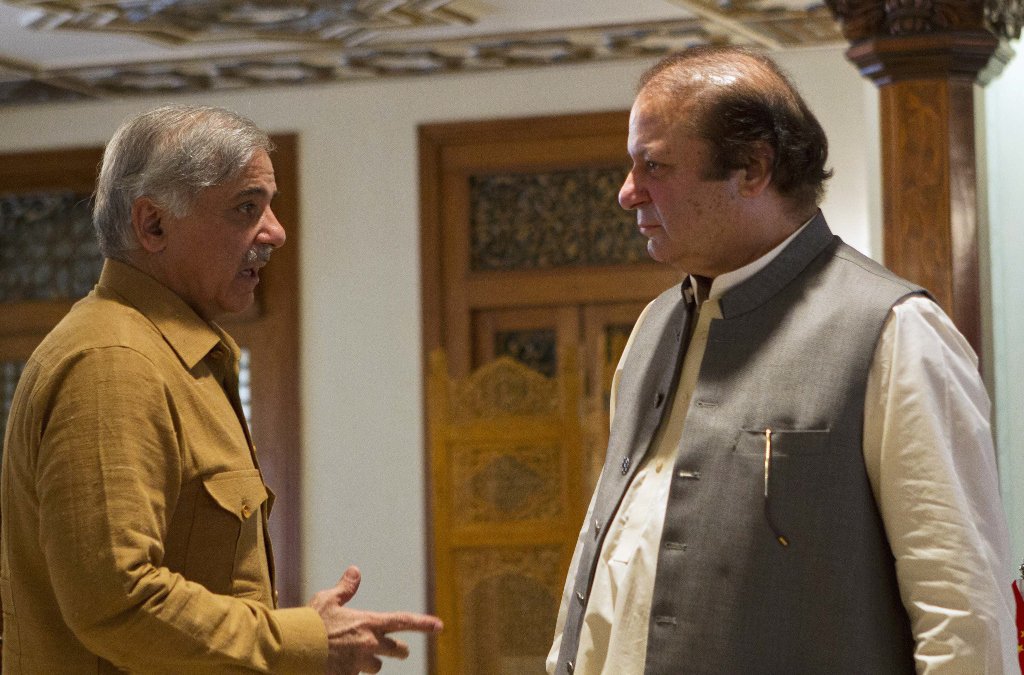 ---
LAHORE:
The rift between Pakistan Muslim League-Nawaz (PML-N) President Shehbaz Sharif and his elder brother Nawaz Sharif seems to be widening as the former's newly appointed spokesperson on Friday said his chief had indeed floated the idea of "national government".
In a talk with journalists in Karachi earlier this week, Shehbaz had stated that the solution to the national issues, ranging from foreign policy to economy and from political uncertainty to fast-eroding space for true democratic forces, demanded a consensus national government.
A day later, the PML-N issued a clarification, saying Shehbaz spoke in his personal capacity regarding his idea of national government. The opposition leader then appointed a spokesperson for himself, sparking a debate in the party that he (Shehbaz) has shown his annoyance in this way.
"Shehbaz Sharif had indeed proposed the formation of a 'national government' in Karachi," newly appointed PML-N president's spokesperson Malik Muhammad Ahmed Khan told The Express Tribune.
Read more: Shehbaz arrives to iron-out internal rifts before political muscle flex
He added that it was not the first time that he had given such a proposal.
His account of what Shehbaz had actually said in Karachi, was somewhat different with the clarification issued by party spokesperson Marriyum Aurangzeb, who had twice refuted the news articles carrying Shehbaz's media interaction, wherein he had suggested forming a national government, terming all such articles as misinterpretation of facts claiming that Shehbaz had talked about taking all political parties along sans the PTI.
Malik, who was accompanying Shehbaz Sharif during the Karachi visit, said that the PML-N president while answering a question of a journalist had said that for resolving the issues of the Pakistan, there was no harm in forming a national government.
Also read: Nawaz rebuffs Shehbaz's views on political reconciliation
He said Shehbaz had talked about leaving aside the division to work for the betterment and prosperity of the country. He said that this was not the first time he had expressed such views.
It's pertinent to mention here that nowhere during the course of conversation with the media in Karachi had Shehbaz talked about not working with the PTI while talking about the national government.
Shehbaz though was talking against the PTI government when he made this proposal. But saying he had talked about forming a national government sans the PTI, was completely wrong, an insider claimed.
The leader said that Shehbaz had talked about the national government, not an opposition party alliance, adding that it would have been better if Shehbaz had clarified his statement himself.
PML-N spokesperson Marriyum Aurangzeb said in a statement to clarify the issue that Shehbaz had made a "passing remark" that if the people of Pakistan again elected the PML-N to power in the next elections, "in his personal view, he would not mind inviting other political parties, excluding the PTI, to contribute towards solving the massive crisis created by the Imran Khan government over their disastrous tenure in government".
"Any news item carried by any news media stating otherwise is a misrepresentation of what the PML-N president said," according to the party spokesperson.
The clarification came a day after Shehbaz's idea made headlines in the national media and triggered a guessing game about a change of heart in the main opposition party which has challenged the PTI rule since the last general elections.
COMMENTS
Comments are moderated and generally will be posted if they are on-topic and not abusive.
For more information, please see our Comments FAQ