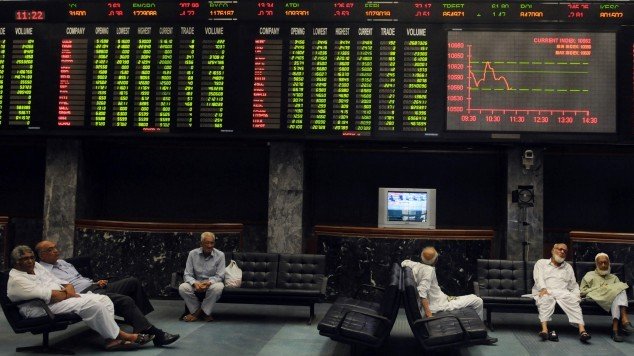 ---
KARACHI:
The Pakistan Stock Exchange lost further ground on Thursday and the KSE-100 index slid 510 points owing to rupee depreciation and a surge in prices of necessities.
The ongoing decline in rupee's value against the greenback pushed prices of food items upwards as reflected in the inflation data, released by the Pakistan Bureau of Statistics (PBS) on Wednesday, and caused worries among market participants.
Weak investor sentiment sparked profit-taking in all index-heavy sectors and pulled the market down.
Earlier, trading kicked off on an optimistic note but due to the absence of positive triggers, the market erased gains and started descending in the initial hour. Following a steady decline, the downward trend accelerated in the final hours, pushing the index below 47,000 points.
At close, the benchmark KSE-100 index recorded a decrease of 510.40 points, or 1.08%, to settle at 46,903.06.
A report of Arif Habib Limited stated that the market saw a drawdown of 539 points during the session, which came in the backdrop of a depreciating rupee, rising cost of commodities (particularly coal for cement) and redemption calls from mutual funds.
The cement sector came under significant selling pressure followed by banks and technology stocks due to cost pressures and limited flexibility to pass on the cost.
Weak investor sentiment, as evident from the longer-than-anticipated consolidation of the benchmark KSE-100 index, made the depreciating rupee a negative factor even for technology, textile, exploration and production stocks, which should have benefited from the currency's decline.
JS Global analyst Maaz Mulla said that the KSE-100 index fell below 47,000 points, closing down by 510 points at 46,903.
On the news front, the Consumer Price Index (CPI) recorded an increase of 8.4% on a year-on-year basis in August 2021 as compared to an increase of 8.4% in the previous month and 8.2% in August 2020.
A hammering was witnessed in the cement sector as coal prices went higher in the international market. As a result, Pioneer Cement (-5.8%), Cherat Cement (-5.3%), Maple Leaf Cement (-3.5%), DG Khan Cement (-2.7%) and Lucky Cement (-1.6%) closed negative.
In the banking sector, UBL (-2.9%), HBL (-1.9%) and MCB (-1.9%) lost ground to close in the red.
The refinery sector gained on the back of news that the Ministry of Energy (Petroleum Division) had finalised the modified draft of Refinery Policy 2021 after incorporating recommendations of the Cabinet Committee on Energy (CCOE).
Attock Refinery (+3.1%), National Refinery (+3.4%), Byco Petroleum (+2.3%) and Pakistan Refinery (+2.1%) were the major gainers.
"Going forward, we recommend investors to remain cautious and wait for clarity on the MSCI reclassification proposal, scheduled to be announced on September 7, 2021," the analyst said.
Overall trading volumes rose to 544.4 million shares compared with Wednesday's tally of 536.6 million. The value of shares traded during the day was Rs16.1 billion.
Shares of 530 companies were traded. At the end of the day, 139 stocks closed higher, 363 declined and 28 remained unchanged.
Ghani Global Holdings was the volume leader with 58 million shares, gaining Rs0.98 to close at Rs47.18. It was followed by WorldCall Telecom with 53.3 million shares, losing Rs0.06 to close at Rs3.50 and Azgard Nine with 42.2 million shares, gaining Rs0.03 to close at Rs25.85.
Foreign institutional investors were net sellers of Rs287.6 million worth of shares during the trading session, according to data compiled by the National Clearing Company of Pakistan.
COMMENTS
Comments are moderated and generally will be posted if they are on-topic and not abusive.
For more information, please see our Comments FAQ