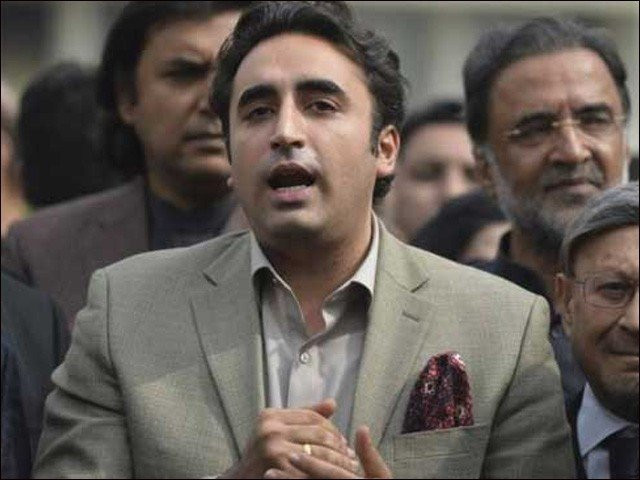 ---
KARACHI:
Pakistan Peoples Party (PPP) Chairman Bilawal Bhutto Zardari on Tuesday scorned the leaders of Pakistan Democratic Movement (PDM), saying if the alliance wanted to advance its objective of overthrowing the incumbent government then "they should first resign from the assemblies en masse".
Bilawal, speaking to media in Kandhkot, said that the anti-government alliance should first move a no-confidence motion against Prime Minister Imran Khan and Punjab CM Usman Buzdar if they were serious about ousting the regime.
Bilawal recalled that earlier the hardliners in the component parties of PDM had declared mass resignation an indispensable requirement in their strategy to dethrone the Pakistan Tehreek-i-Insaf government. "I hope they will first tender resignations before they begin their long march as it had been the bone of contention for them," Bilawal said, taking a jibe at the leaders of PDM.
Read Bakhtawar blasts PDM for 'banning women' from attending rallies
Earlier this year in March, PPP, while still in the PDM, had resisted the idea of mass resignation, contending that the opposition had gained much ground and political space after the by-elections in the country. The party leaders were of the view that the victory of Syed Yousuf Raza Gilani in Senate elections had caused a major dent in the ruling alliance therefore the opposition should give a tough time to the government while staying in the assemblies, instead of leaving the field open for the government.
Speaking on Tuesday, the PPP chairman claimed that it was the "first and last time" PTI had formed a government in the country, adding that "the people have exhausted all their options and have now seen for themselves the performance of Imran Khan after PML-N".
"The people of Pakistan have seen the real face of change. The burden of the system is being borne by the people in the form of inflation," he said. "We demand that transparent elections be held soon."
A day earlier, speaking to the media after PDM's rally in Karachi where the alliance announced marching towards Islamabad, Bilawal slammed the opposition alliance for being "non-serious" about its strategy to oust the government, claiming that the ruling party was benefiting from the multi-party alliance's "flawed" stance.
"They [Pakistan Democratic Movement] are not willing to remove Buzdar [Punjab chief minister] and even they said they never wanted to remove [prime minister] Imran Khan," he said.
COMMENTS
Comments are moderated and generally will be posted if they are on-topic and not abusive.
For more information, please see our Comments FAQ