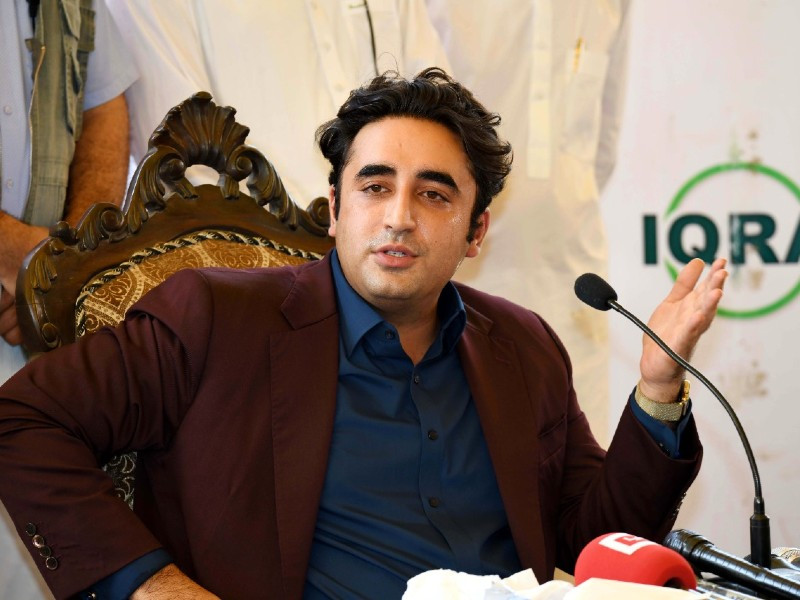 ---
SUKKUR:
Pakistan Peoples Party (PPP) Chairman Bilawal Bhutto Zardari on Monday said that the opposition alliance was "non-serious" about its strategy to oust the government, claiming that the ruling party was benefiting from the multi-party alliance's "flawed" stance.
"They [Pakistan Democratic Movement] are not willing to remove Buzdar [Punjab chief minister] and even they said they never wanted to remove [prime minister] Imran Khan," Bilawal said while addressing a news conference a day after the PDM held a rally in the provincial capital and announced marching towards Islamabad "with a sea of people" to topple the ruling Pakistan Tehreek-e-Insaf.
Bilawal said all political parties had a right to do politics in their own way "but it would have been the best scenario if they had accepted our strategy" to topple the PTI-led government, adding that the ruling party had exploited PDM's "flawed" strategy in its own favour.
Bilawal was referring to the election of the Senate opposition leader in March this year wherein PPP's Yousuf Raza Gilani was appointed as the opposition leader in the upper house of parliament.
"We can only show them the path. We proved our strength in the National Assembly and if they [PML-N] did not ditch us in Punjab, we could also deal a blow to the ruling party there as well," he said, adding that PM Imran could be removed from power if his party's strategy had been adopted by the alliance.
Talking about mass resignations, Bilawal said the PDM parliamentarians should resign "on principle since we are not together and that was their problem".
Bilawal invited the opposition to support his party and asserted that PPP would not only give a tough time to the government but also remove it.
Read PDM not willing to oust PM Imran: Bilawal
'Women not allowed in PDM rally'
Responding to a question, Bilawal said that yesterday's PDM power show in Karachi would have been "more effective" if they had allowed the women to participate in the public meeting.
"This is not Afghanistan. This is Karachi, capital of Sindh," he remarked and questioned how a country and a city could be run when "even a home cannot be run without a woman".
No society can progress until men and women are equal participants in the economy and politics, the PPP chairperson said. "Maybe this was a reason that Karachi rejected them (PDM) and that [an] impression could not be built as in the past."
Bilawal's jibe comes despite PDM chief Maulana Fazlur Rehman denied the reports that they had not barred women from attending rallies.
Several media reports claimed that women's participation in the PDM's Sunday rally was very low.
COMMENTS
Comments are moderated and generally will be posted if they are on-topic and not abusive.
For more information, please see our Comments FAQ