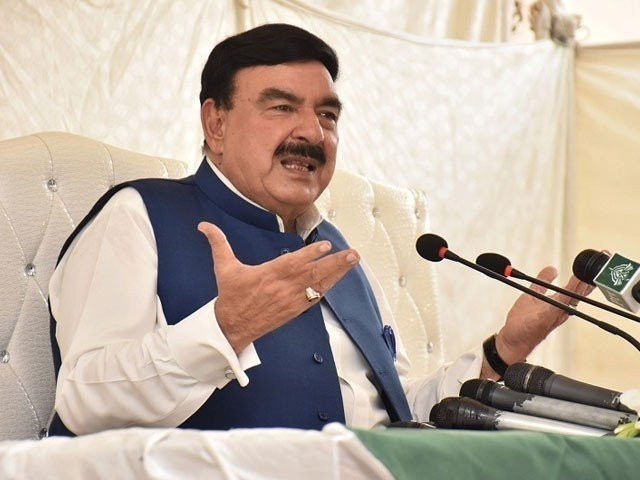 ---
ISLAMABAD:
Interior Minister Sheikh Rashid said on Wednesday that Pakistan has paid a heavy price for allying with the United States in its war on terror.
The minister made these comments while speaking to reporters in Islamabad. Rashid added that Pakistan wanted peace in Afghanistan as it was crucial for the prosperity of the entire region.
He said there was no burden of refugees on Pakistan after the Taliban takeover, adding that all the trade routes with Afghanistan were operational. "The business activity has posted a 65 per cent growth," Rashid said.
The interior minister added that Pakistan was not interfering in Afghanistan's internal affairs.
Read Afghan soil won't be used against Pakistan: Rashid
According to Rashid, India faced defeat and was grieving its loss in Afghanistan. He said the Indian government was "facilitating terror activities in Pakistan".
"We will not allow the Tehreek-e-Taliban Pakistan (TTP) to carry out terrorism in Pakistan," he said, adding that the Afghan Taliban assured that Afghan soil won't be used against Pakistan or any other country.
The interior minister also talked about the security of Chinese nationals in Pakistan. He said the Chinese citizens working on the China-Pakistan Economic Corridor (CPEC) projects will be provided security by the government.
Rashid said the government will take additional measures to ensure security in Islamabad, adding that the law enforcement agencies were working round the clock in the interior ministry.
The ministner said he will ask the chairman of the Capital Development Authority (CDA) to start the construction work on Margalla Road.
PDM
Rashid also had "free advice" for the Pakistan Democratic Movement (PDM) – a multi-party opposition alliance.
Read Nawaz should come back, says Rashid
"Domestic politics will not work here anymore as the region is becoming an important part of global politics," Rashid said in a message to the PDM. He said Maulana Fazlur Rehman, the head of Jamiat Ulema-e-Islam-Fazl (JUI-F), was a mature politician, adding that the rest of the PDM was made up of "Under 19" politicians.
He said that the PDM was not a threat to the government. "They were united in the Kashmir election, but still couldn't defeat the government," he said, claiming that the opposition is done for.
COMMENTS
Comments are moderated and generally will be posted if they are on-topic and not abusive.
For more information, please see our Comments FAQ