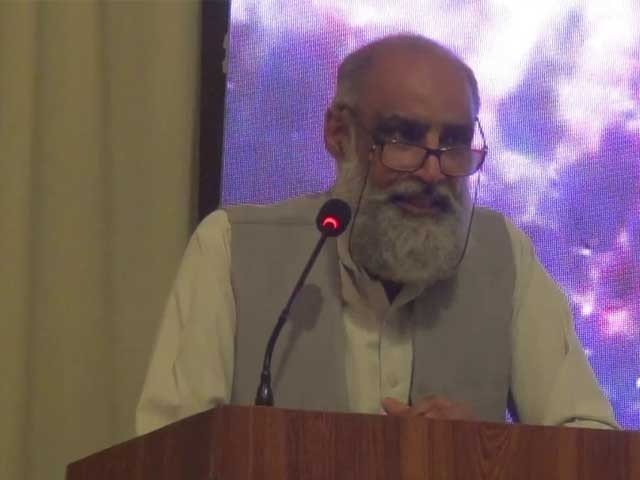 ---
ISLAMABAD:
The Supreme Court on Tuesday disposed of a plea regarding the release of Advocate Col (retd) Inamur Rahim, saying there was no need to arrest him.
A three-member bench of the apex court headed by acting Chief Justice Umar Ata Bandial heard the case.
The defence ministry had earlier approached the top court against the Lahore High Court (LHC) Rawalpindi bench's directions to military authorities to release Rahim.
During the hearing, Justice Qazi Amin quoted the defence ministry as saying that Rahim's arrest was not required.
Read SHC orders recovery of missing persons
Expressing regret on Rahim's "enforced" disappearance, Attorney General for Pakistan Khalid Javed Khan said: "I am sorry for the treatment meted out to him [Rahim]."
"Our concern is only based on the observations made in the [trial court's] verdict," he added.
The AGP highlighted that the Army Act did not apply to an apprehended individual before an indictment.
To this, Justice Amin said the case became ineffective after the arrested person's release.
Justice Bandial noted that the arrested person had been released after the high court's decision.
"Why should we decide about the legal clause at this point?" he added.
On January 14, 2020, then AGP Anwar Mansoor Khan had told a three-judge bench headed by Justice Mushir Alam that Rahim was part of a spy network and a number of individuals belonging to that ring were still wanted.
Read more SHC grills interior secretary over missing persons
However, in a sudden change of heart, the government decided to release Rahim on medical grounds, as the advocate was not in good health and had to be admitted to the hospital multiple times.
In view of the AGP's fresh statement, the court had ordered that the accused be released after depositing his passport with the SC's Additional Registrar "and with further condition that he will associate and continue to cooperate in the inquiry and investigation".
The bench had also ordered the ministry to present Rahim before the medical superintendent of Benazir Bhutto Hospital in Rawalpindi for a medical examination.
Rahim was arrested by the defence ministry on charges of espionage. He was picked by military authorities on December 17, 2019.
Rahim was known to pursue cases of missing persons. He had also challenged an extension in the job tenure of former army chief Ashfaq Pervez Kayani.
He had also approached the National Accountability Bureau against the former president Gen (retd) Pervez Musharraf.
The Pakistan Bar Council in its resolution on January 16 last year had expressed its grave concerns about "forced disappearance and unconstitutional detention" of Rahim and called for his immediate release with a demand to take stern legal action against the "delinquents".
COMMENTS
Comments are moderated and generally will be posted if they are on-topic and not abusive.
For more information, please see our Comments FAQ