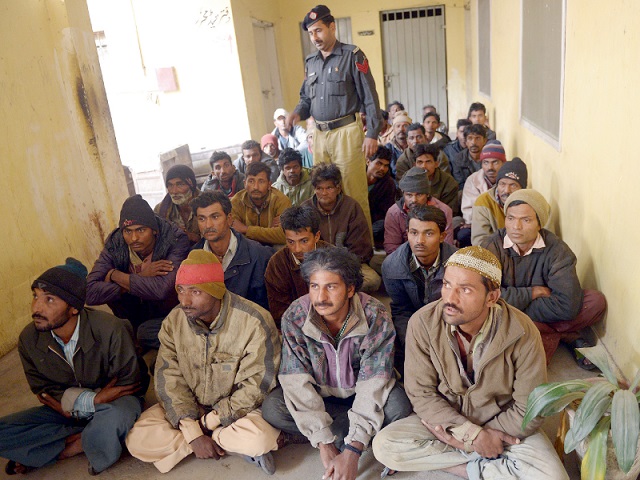 ---
LAHORE:
As a "goodwill gesture", India has released three Pakistani fishermen languishing in Indian jails for more than four years.
The released prisoners, detained by Indian authorities in 2017 for straying across the international waters, were handed over to the Edhi Foundation after being quarantined for two weeks.
Speaking to The Express Tribune, Faisal Edhi said that the released prisoners include two fishermen and a civilian – Allahbakhsh, Mubarak, and Younus - who reached Lahore via the Wagah border but they had been put into quarantine for two weeks as per Covid-19 standard operating procedures.
"The two fishermen hailed from Karachi whereas the citizen belonged to Thatta. After the completion of their quarantine period and clearance of medical reports, the fishermen and the citizen were handed over us and we facilitated the return of the released prisoners to their native hometowns," Faisal added.
Under the directions of Faisal Edhi, the fishermen were sent to their homes on Friday via Karachi Express at 5pm.
The Edhi Foundation has often assisted Indian fishermen held in Pakistani jails and facilitated their repatriation. "We have been facilitating the return of the incarcerated prisoners for more than 30 years," Faisal said.
According to a list released by Aghaz-e-Dosti, an NGO working to promote peace between Pakistan and India, 67 Pakistanis are awaiting repatriation process in Indian prisons despite having completed their terms. One of the Pakistani prisoners completed his sentence in 1998.
The list is based on data exchanged between Pakistan and India on January 1, 2021 under the agreement on consular access between the two governments, which was signed in 2008.
COMMENTS
Comments are moderated and generally will be posted if they are on-topic and not abusive.
For more information, please see our Comments FAQ