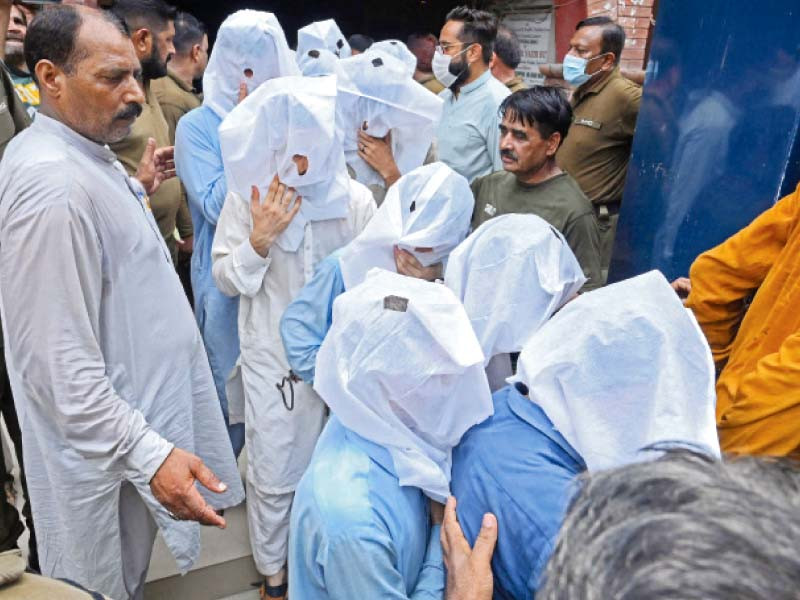 ---
LAHORE:
The police are on their toes after the higher authorities took notice of a number of incidents of harassment of women at public places following the surfacing of the videos one after the other during the past week.
The major task of Lahore police these days appears to be the identification and arrest of those suspected of assaulting the women. The officials are focusing on the task to save themselves after the dismissal of senior officers of Lahore police.
A top trend started in the media on August 16 when the video of Ayesha Baig, a TikToker, being assaulted by a mob on August 14 surfaced.
IGP Ghani has said police conducted raids on 26 different places during which 36 more suspects were arrested and so far the total number of arrested persons has reached 66. He further said that out of the arrested suspects, 40 accused have been sent to jail on judicial remand after the identity parade while the remaining 26 suspects will be produced in the court for the identity parade tomorrow.
He further said ASI Khalid Mehmood who detained an elderly man for interrogation, has been suspended and a show cause notice has been issued to the in-charge investigation also while the senior citizen was released at the same time and after the inquiry further departmental and legal action will be taken in this regard.
Read Another young woman harassed on 14th August in Lahore
He said another video of violence on a girl at a park that went viral on social media was also traced to Mirpur district of Azad Kashmir.
IGP Ghani said most of the social media users attributed that video to Iqbal Park, which was completely wrong and contrary to the facts.
According to police sources, someone sent the video to Chief Minister Usman Buzdar through social media, which he referred to Inspector General Inam Ghani with instructions for action.
In the videos that went viral, the complainant is seen taking selfies with her social media followers, but after a while, hooligans are seen tearing her clothes and harassing her.
After Prime Minister Imran Khan also took notice of the incident, the chief minister sought a report, in which negligence of the police was proved. DIG Kayani, SSP Operations Syed Nadeem Abbas and City SP Hassan Jahangir were made officers on special duty (OSDs). Badami Bagh SDPO Usman Haider and the Lorry Ada police station were suspended. Greater Iqbal project officials were also suspended for negligence.
Meanwhile, another video clip from Ravi Road area came to light in which about a dozen men on motorcycles were seen chasing two women traveling on a motorcycle rickshaw and a young man molesting one of them.
The case was registered on police complaint.
Published in The Express Tribune, August 22nd, 2021.
COMMENTS
Comments are moderated and generally will be posted if they are on-topic and not abusive.
For more information, please see our Comments FAQ