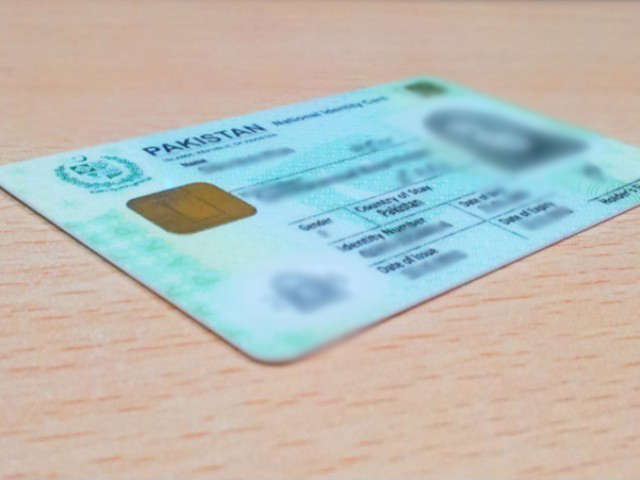 ---
ISLAMABAD:
National Database and Registration Authority (Nadra) has launched a new system of verification and renewal of identity cards in a bid to control illegal issuance of Computerised National Identity Cards (CNICs).
The development comes weeks after the issue of roughly four million 'fake CNICs' echoed across the country including in Senate and the National Assembly.
FIA Sindh Director Amir Farooqi, while speaking at a press conference at his office in Karachi last month, had revealed that some employees of Nadra helped militants linked with the banned Tehreek-e-Taliban Pakistan (TTP), Al-Qaeda in Indian Subcontinent (AQIS) and proscribed outfits of Baloch sub-nationalist groups to get CNICs in return for monetary and other gains.
Farooqi named several foreigners, including an Indian citizen Imran Ali, who was involved in the Safoora carnage; and terrorists involved in the attack on the Chinese consulate in Karachi, who got CNICs from Nadra. He also revealed that foreign agencies breached and damaged Nadra's system.
Read more: The curious case of '4m fake' CNICs
According to an official of Nadra, the new system would verify or identify registration of any irrelevant person in the family tree.
He said an operation has also been launched against foreigners living in Pakistan illegally. New technology will be used to reach a fake identity card through artificial intelligence to stop the wrong registration of any such card with Nadra, he added.
Through this new system, Pakistani citizens can get details and verification of family members while sending SMS from their registered mobile phones to 8009.
The Nadra official added that citizens can get required details while sending CNIC number and date of issuance. In reply, all details of the family tree will be provided while there is also an option to make corrections in details. Citizens can register their mobile numbers from any Nadra center, he concluded.
The scandal of militants getting Pakistani national identity cards in exchange for bribes or some illegal gains has not surfaced for the first time. Reportedly, in 2015, the Inter-Services Intelligence agency (ISI) had uncovered that Nadra issued ID cards to militants, including some linked to al Qaeda, in return for bribes as small as US$100.
COMMENTS
Comments are moderated and generally will be posted if they are on-topic and not abusive.
For more information, please see our Comments FAQ