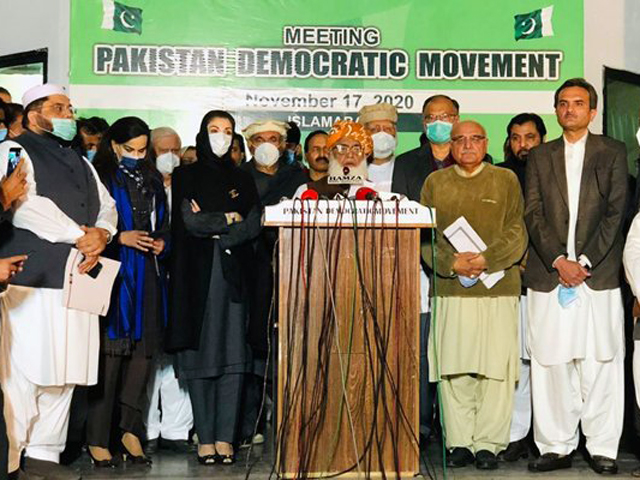 ---
LAHORE:
The Pakistan Democratic Movement -- an alliance of opposition parties -- is holding a meeting of its Rahbar Committee in Islamabad on Saturday (today) to sketch out a plan for reviving the anti-government movement that once posed a seemingly serious threat to the ruling PTI but later due to infighting, lost all its steam.
PML-N provincial spokesperson Azma Bukhari said the meeting would not only deliberate on the PDM show in Karachi, but also come up with a plan for rallies and other activities after the event.
"The plan decided during the Rahbar Committee meeting would then be placed before the PDM leadership meeting in Karachi on August 28, scheduled a day before the rally in the city," she added.
Another PML-N leader said all parties would present their suggestions on how to resuscitate the PDM.
Read more: PDM rejects electoral reforms, AJK results
He said the suggestions that all would agree on would then be placed before the leadership meeting.
"It's even important for the PML-N at this stage for this movement to gain momentum. PDM rallies can also set the tone for the general election campaign, so it would be equivalent to a head start," he added.
He said it was too early to predict if party president Shehbaz Sharif would participate in the Karachi rally.
"The PML-N will be represented by Shahid Khaqan Abbassi and Ahsan Iqbal in the Rahbar Committee meeting.
JUI-F leader Moulana Amjad Khan said his party, which was a constituent of the PDM, would suggest during the meeting to continue holding rallies.
"It can be either one or two rallies after the Karachi rally or a string of rallies, whatever is agreed on. However, he added, it was yet to be seen what other parties had in mind.
Also read: Fawad downplays PDM meeting
When asked if the PDM had taken into account the coronavirus situation in Karachi, he said the government could not be entirely trusted in this manner.
"We had cancelled the PDM rally in Karachi in view of the resurgence of the pandemic last time around. So this time, there are minimal chances of reconsideration."
PPP Information Secretary Faisal Kareem Kundi talking to The Express Tribune said his party would not advise the PDM against holding a rally in Karachi.
"We would not give them any excuse to delay their rally yet again, which they might be looking for, he added.
"We only request them to follow the coronavirus SOPs."
COMMENTS
Comments are moderated and generally will be posted if they are on-topic and not abusive.
For more information, please see our Comments FAQ