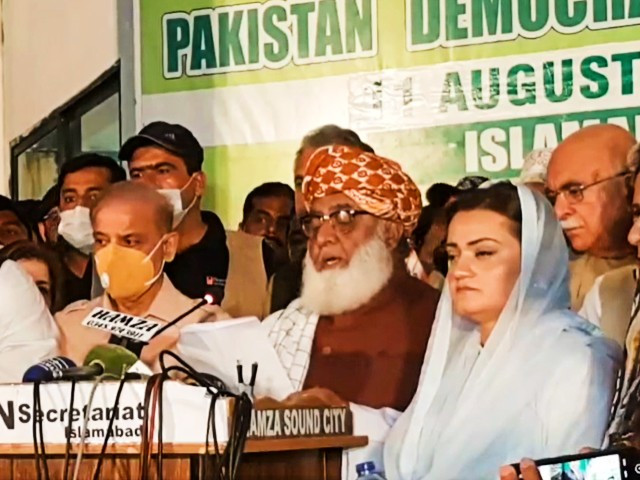 ---
ISLAMABAD:
The Pakistan Democratic Movement (PDM), an alliance of opposition parties, on Wednesday announced a countrywide protest against inflation and rejected the PTI government's electoral reforms as well as the results of the recent Azad Jammu and Kashmir (AJK) polls.
After a gap of nearly three months, a 4.5-hour long session of the alliance was held at the PML-N secretariat, chaired by its president, JUI-F chief Maulana Fazlur Rehman.
PML-N supremo and convicted former premier Nawaz and his daughter and party vice president Maryam Nawaz participated in the meeting via video link from London and Lahore respectively.
Read more: PDM announces fresh anti-govt drive
The meeting discussed the future stages of the anti-government movement and the threats posed to the country on the foreign front.
In a media briefing after the meeting, Fazl maintained that the country was facing serious internal and external challenges.
"The 'fake' government has failed on every front inside and outside the country and left it globally isolated," he added.
"The electronic voting machines [EVMs] are an easy way of rigging the elections and we reject these unilateral electoral measures."
Also read: What went wrong with the PDM?
Speaking on the occasion, PML-N President Shehbaz Sharif said his brother Nawaz was undergoing medical treatment in London.
"Doctors are monitoring him [Nawaz] on a daily basis and he will not return to the country without completing his treatment," the opposition leader in the National Assembly added.
"The government is politicising Mian Sahib's illness."
To a question, the former Punjab chief minister wondered as to how the politics of reconciliation had benefitted him in 30 years [that he would opt for it now].
Fazl said a meeting of the PDM steering committee would be held on August 21 in Islamabad, followed by another meeting of the alliance in Karachi on August 28. "Then the PDM will stage a grand rally in Karachi on August 29."
The JUI-F chief maintained that Pakistan's prestige had been dented by not allowing it to participate in the UN Security Council meeting on Afghanistan.
"The PDM has made it clear that the solution to the Afghan problem lies in dialogue between the parties." Fazl also asked why facts were being hidden from parliament.
The PDM president condemned the "worst" inflation in the country.
"The last drop of public's blood is also being squeezed to meet the IMF conditions," he added.
Fazl criticised the government for the attacks on journalists, saying that the media was facing the "worst" restrictions.
"The main objectives of the PDM are to ensure that all institutions fulfill their responsibilities within their jurisdiction."
The PDM chief said Qaumi Watan Party Chairman Aftab Sherpao had been appointed the senior vice president of the alliance.
"The PDM will focus all its energies on transparent and free elections."
COMMENTS
Comments are moderated and generally will be posted if they are on-topic and not abusive.
For more information, please see our Comments FAQ