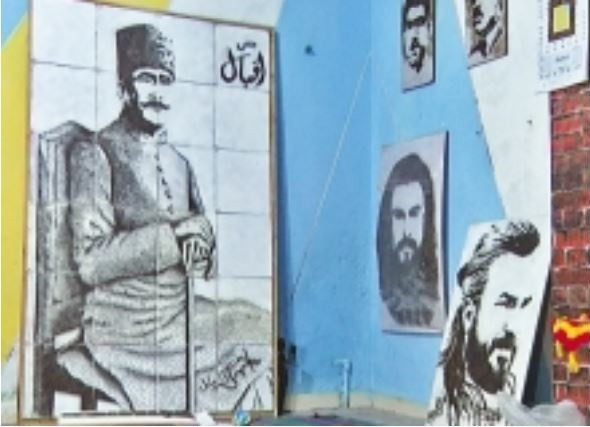 ---
LAHORE:
Ahmed Ali Sadiq is an artist with a mission – he wants to make nail portraits of the country's national heroes.
To mark the 75th Independence Day of the country, the young artist spent 150 hours with 30,000 small nails to create a giant portrait of national poet Allama Muhammad Iqbal.
The 25-year-old youth did not take breaks while working on the nail portrait and reportedly made an accurate depiction of the national poet. He had also worked on the portraits of Major Raja Aziz Bhatti Shaheed, who had received Nishan-eHaider, Halvaldar Lalak Jan, Major Tufail Mohammad and Sawaar Mohammad Hussain with the help of nails.
The portraits of Minar-ePakistan, Ertugrul Ghazi and Commander Turgut were also examples of his artwork. Ahmed aims to break world records by creating several such memorable portraits in the future. These include the portraits of the country's founder Quaid-e-Azam Muhammad Ali Jinnah, former prime minister Benazir Bhutto and Prime Minister Imran Khan.
Ahmed told The Express Tribune that government patronage for his artwork can help him develop better portraits in the future. Reportedly, the young artist who hails from Lahore had expressed his love for the national poet by making a giant portrait using nails on the occasion of the 75th Independence Day.
Ahmad had created the national poet's nail portrait at a size of around six feet long and four feet wide. The artwork was completed with the help of 30,000 nails in a total of 150 hours. As many as 24 blocks of one foot each were used in this nail portrait.
The young artist not only completed this art piece but had made nail portraits of officers of the armed forces including Major Raja Aziz Bhatti, who got Nishane-Haider by sacrificing his life. Ahmed had also developed a model of Minar-e-Pakistan with the help of 1,000 nails.
As part of his future plans, the talented young artist added that he was working on developing a large portrait attributed to the country's founder. He further said that this nail portrait would be finalised by December 25.
PHOTO: EXPRESS
COMMENTS
Comments are moderated and generally will be posted if they are on-topic and not abusive.
For more information, please see our Comments FAQ