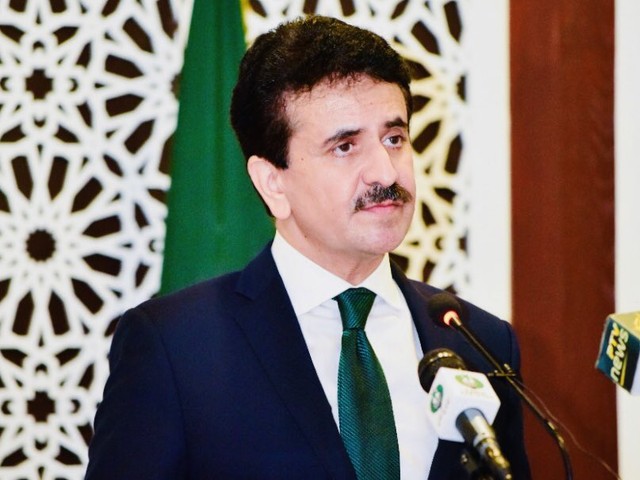 ---
ISLAMABAD:
Pakistan says it has no plans to shut down its embassy in Kabul as the Taliban forces started entering the Afghanistan capital after taking all the major cities, including Jalalabad and Mazar-i-Sharif, across the country.
In a statement on Sunday, Foreign Office Spokesperson Zahid Hafeez Chaudhri said that Islamabad was monitoring the situation in Kabul as the situation deteriorated rapidly in the country.
The spokesperson said the Pakistani nationals in the war-torn country were being assisted and there were no plans to close the embassy as of yet.
Pakistan has always stood for peace in Afghanistan, he said, adding that Islamabad wanted the security situation not to deteriorate further.
Read US, UK sending troops to evacuate nationals as Taliban blitz across Afghanistan
Earlier in the day, Afghanistan Minister of Interior General Abdul Satar Mirzakwal announced that there would be a 'peaceful transfer of power' to a 'transitional government' hours after the Taliban began entering Kabul.
Soon after an Afghanistan interior ministry official confirmed reports of Taliban entering Kabul from all sides earlier in the day, a spokesperson for the Taliban stated that the fighters have been ordered to remain at the city's gates, and not enter it.
It may be noted here that on Saturday, Pakistan and the Taliban agreed to open the Chaman border crossing after successful negotiations between the two sides.
The decision regarding opening of the border had been taken by the concerned authorities three days ago in a meeting between Pakistani and Taliban officials who were responsible for running the daily affairs of the Spin Boldak district which was captured by the Taliban last month.
COMMENTS
Comments are moderated and generally will be posted if they are on-topic and not abusive.
For more information, please see our Comments FAQ