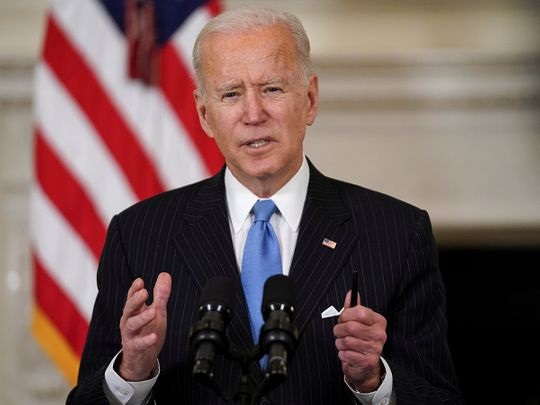 ---
DUBAI/ KABUL:
US President Joe Biden on Saturday increased the number of American troops being sent to Afghanistan to help evacuate embassy personnel and Afghan civilians, and warned the Taliban, who were headed for Kabul, not to hinder the mission.
After consultations with his national security team, Biden said a total of "approximately 5,000" US soldiers – up from 3,000 – will now be deployed to organise evacuations and the end of the US mission after 20 years on the ground.
Biden again defended his decision to withdraw the US military from Afghanistan, saying: "I was the fourth president to preside over an American troop presence in Afghanistan – two Republicans, two Democrats. I would not, and will not, pass this war onto a fifth."
"Based on the recommendations of our diplomatic, military and intelligence teams, I have authorised the deployment of approximately 5,000 US troops to make sure we can have an orderly and safe drawdown of US personnel and other allied personnel," Biden said, adding it would also be to evacuate some Afghans going through a special visa programme.
Also read: Taliban capture major northern Afghan city of Mazar-i-Sharif, draw closer to Kabul
A US defencee official, speaking on the condition of anonymity, said of the 5,000 Biden announced, 4,000 were already previously announced but about 1,000 were newly approved and would be from the 82nd airborne division.
The statement comes hours after Taliban forces captured a major city in northern Afghanistan, sending Afghan forces fleeing, and drew closer to Kabul, where Western countries scrambled to evacuate their citizens from the capital.
The fall of Mazar-i-Sharif, confirmed by a provincial council official, was another major capture for the hardline militants, who have swept through the country in recent weeks as US-led forces withdrew.
The United States and Britain are now rushing several thousand troops back into the country to evacuate citizens amid concern Kabul could soon be overrun.
COMMENTS
Comments are moderated and generally will be posted if they are on-topic and not abusive.
For more information, please see our Comments FAQ